This article series explains the challenges and then lays out a clear framework to accelerate cross-selling and revenue growth immediately after a merger or acquisition.
Getting two distinct enterprise sales teams to work together is difficult for three reasons:
1. Sales teams work in different CRM systems
2. Sales teams have different regions
3. Sales reps don't yet trust each other
You Can't cross-sell without the right data, insights, and technology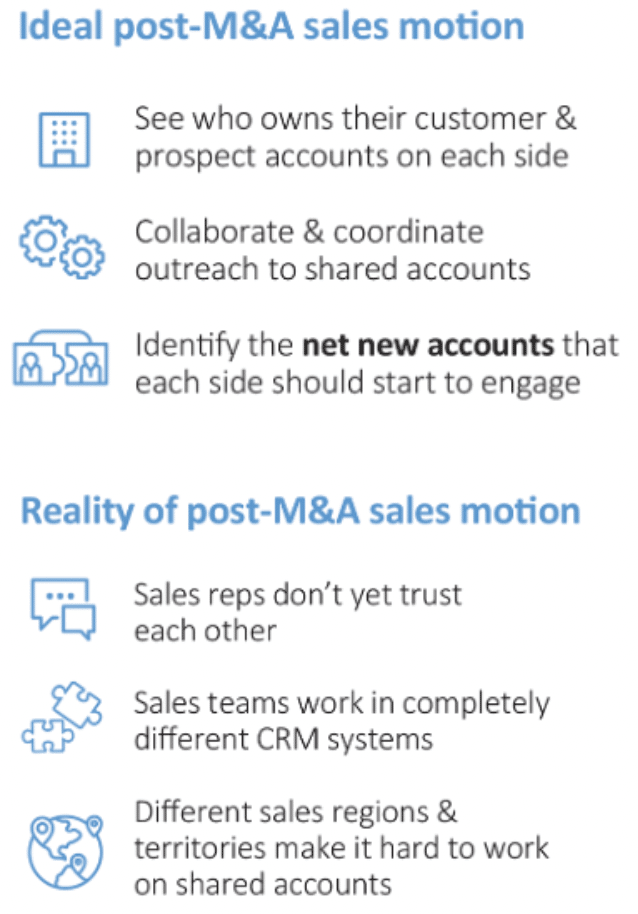 Ideally, sales teams from both companies would be able to hit the ground running immediately after an M&A deal closes. And they could – if they had the right data and tools at their fingertips.
But most companies lack the right data, insights and technology needed for sales teams to start sharing data and collaborating with each other after an acquisition.
Once an M&A deal closes it typically takes a long time to operationalize a joint sales motion and for sales teams to build trust with each other. Sales reps continue to work in their separate CRM systems, and it is hard for sales reps on each side to know who exactly they should start collaborating with on each account.
You cannot expect your combined sales teams to realize your new revenue targets without quickly finding a way to overcome or work around each of these challenges.
Headache #1: sales reps don't trust each other yet
It can take years for sales teams to get to know each other, figure out how to work together, and ultimately operate as a single company.
It takes a while to build up trust with new team members, and with an M&A, sales teams are suddenly expected to cross-sell with hundreds of new people. But cross-selling requires a high level of trust. Will this new account executive screw up my customer account? Will they say something that slows down my sales cycle? Account executives on both sides are understandably wary when it comes to introducing new people into their accounts.
Integrating the culture of two distinct companies takes time. But you can't wait for this to happen to start cross-selling. While executives and HR teams are working to integrate the two companies, sales has to move quickly to help reps build connections and start collaborating on their shared accounts.
Headache #2: Sales teams work in different CRM systems
Even if both companies are using CRM systems from the same vendor – their sales teams are still siloed in two different accounts. It can take months, or even years, to migrate and merge an acquired company into the main CRM system. It is such a challenge that often companies are still working in separate CRM systems many years later.
Don't make sales reps log in to multiple CRM systems
If your sales teams are siloed in two separate CRM systems, they will have to operate in both CRMs to find the shared account data they require. However, It is highly unlikely to have sales reps who are going to consistently log in to two different CRM systems before calling a customer or prospect. And it is not going to help your reporting when information about accounts and deals starts getting logged in the wrong place.
Headache #3: hard to figure out account and sales territory overlaps
The first step towards a joint sales motion is figuring out who at each company owns the same customer and prospect accounts. From there it would also be nice if sales reps had some way to coordinate outreach to their shared accounts, so the prospects don't receive uncoordinated, or potentially conflicting information from the different sales teams now owned by the same company. And wouldn't it be powerful if reps on both sides could quickly identify the net new accounts each side can help the other sell to?
Ideally sales teams from each company could quickly:
1. See who owns their customer and prospect accounts
2. Collaborate and coordinate outreach to shared accounts
3. Identify the net new accounts that each side should start to engage
Can't cross-sell to existing customers without knowing what they already have
The easiest joint sales motion is to cross-sell into existing customers. This requires a consolidated view of which products from each company are already in place at each account. Unfortunately, installed or sold products are trapped in each company's CRM system and hard for reps on each side to pull together.
Identify net new opportunities for each side
A powerful source of new pipeline and revenue is unlocked when each side can identify the net new accounts each side can help the other sell to. It's one thing to visually scan and compare lists and see where something shows up twice. It's possible for the human eye to search, scan and find a matching record. But it's a lot harder for the human eye to see what's missing from a list – like a major new account you could be selling to.

Quickly identifying new accounts for each side to target would be a fast way to generate new revenue after an acquisition. And aligning all of the account owners to be able to help each other cross-sell their products would drive even more revenue. Most companies aren't able to operationalize this data and process it in a way that makes this easy for sales. That's why we built PartnerTap, so channel and sales teams could identify account overlap instantly and miss nothing.
PartnerTap was founded and built to help companies drive more revenue with partners. At the end of the day the only definition of a successful partnership is one that drives more revenue for both companies. Nothing else matters.
A merger or acquisition is the ultimate strategic partnership
Once two companies have merged there are no longer any conflicts or reasons not to share data and start driving more revenue together. But most companies lack the right data and technology to fully operationalize a post-M&A sales motion.
This is where PartnerTap helps…check out our next blog in the series, M&A: The Sales Enablement Revenue Opportunity [Part 2], to learn more about what sales enablement teams need for a successful integration and how our technology assures no revenue is left on the table.