Ecosystem partner revenue analytics

Identify new pipeline opportunities and track the impact each partner has on your revenue over time.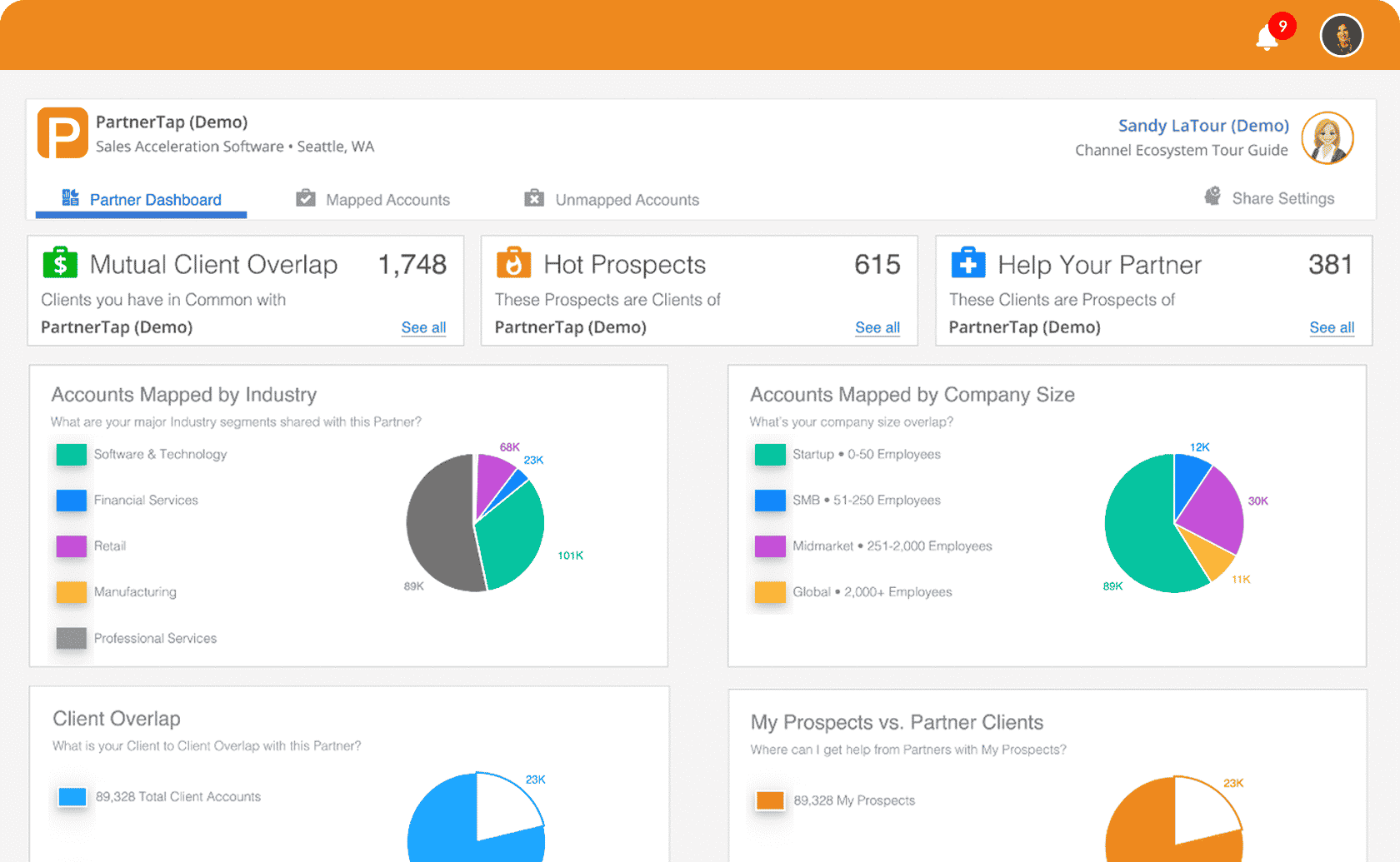 Drive more revenue with the right insights
Crawling through each list of accounts to find mutual account overlap or new market opportunities is time consuming, tedious, and just can't work at scale. PartnerTap's reports and dashboards are designed to help you uncover the actionable opportunities hidden within each of your partners' accounts. #EcosystemSuccess
How to drive more revenue with partner ecosystem analytics
Our partner ecosystem analytics software give channel and sales teams the data you need to identify the biggest revenue opportunities and drive more revenue with each partner.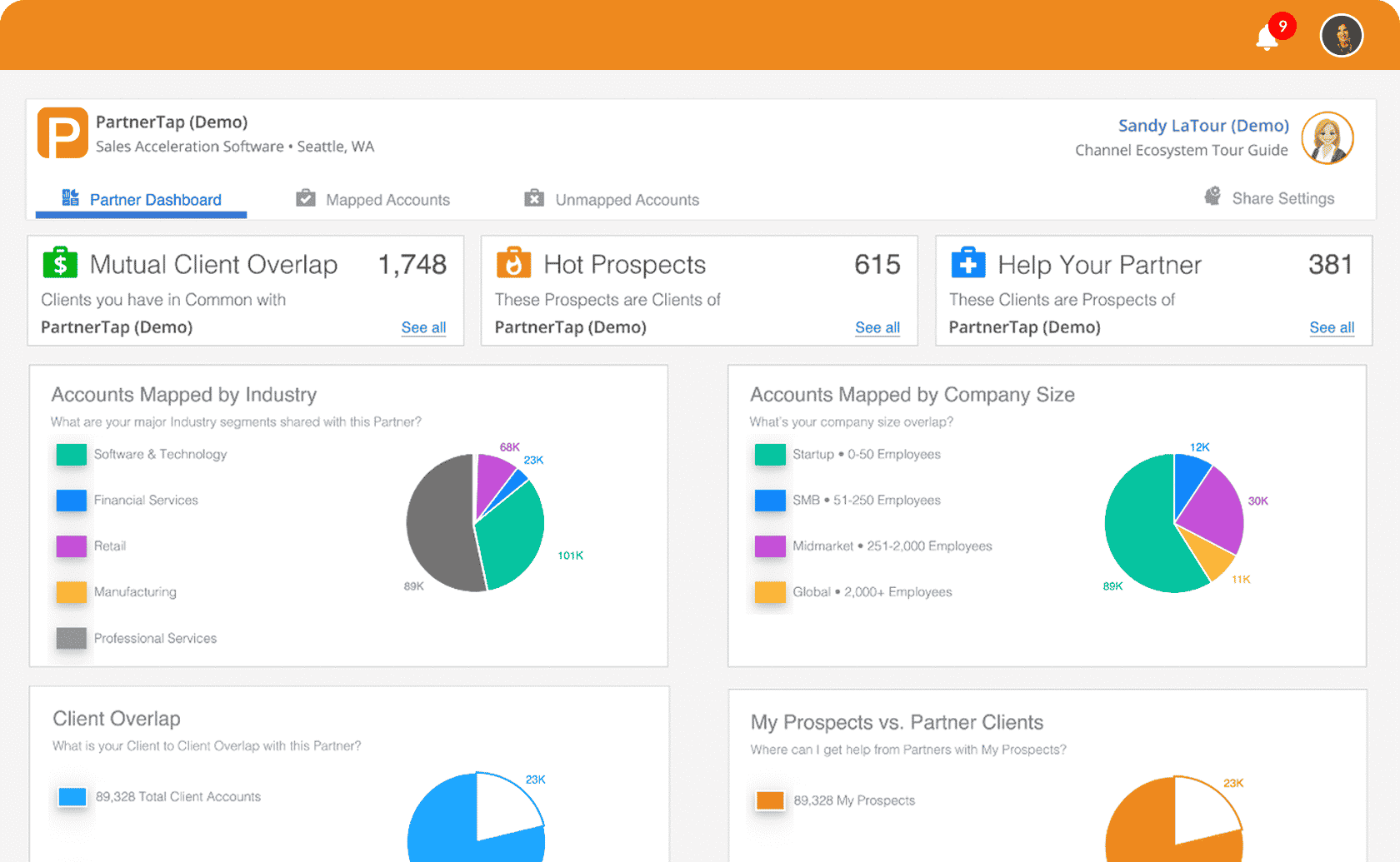 1. See market overlap with each partner
Our Channel Insights dashboard gives you a high-level market map with each partner. Upload a partner's spreadsheet, or invite them to connect their CRM system directly, and you'll see the % overlap by industry, % overlap by segment, # of their existing customers that you could go sell to.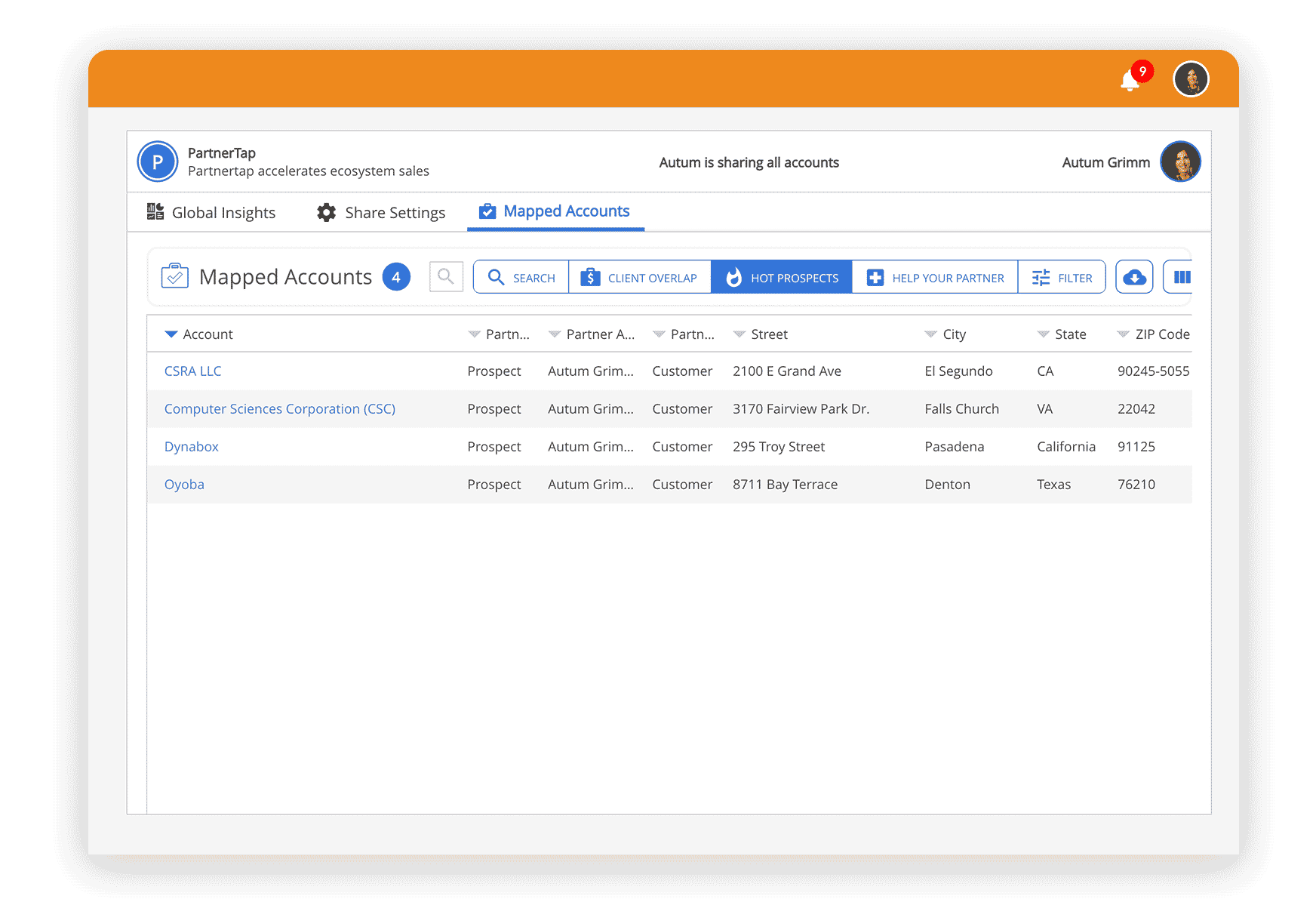 2. Drill down into your ecosystem data
Use the Ecosystem Partner Overlap report to see every partner involved with your target accounts. Export any report into Excel to start slicing and dicing your partner account data to find specific segments you can target with each partner.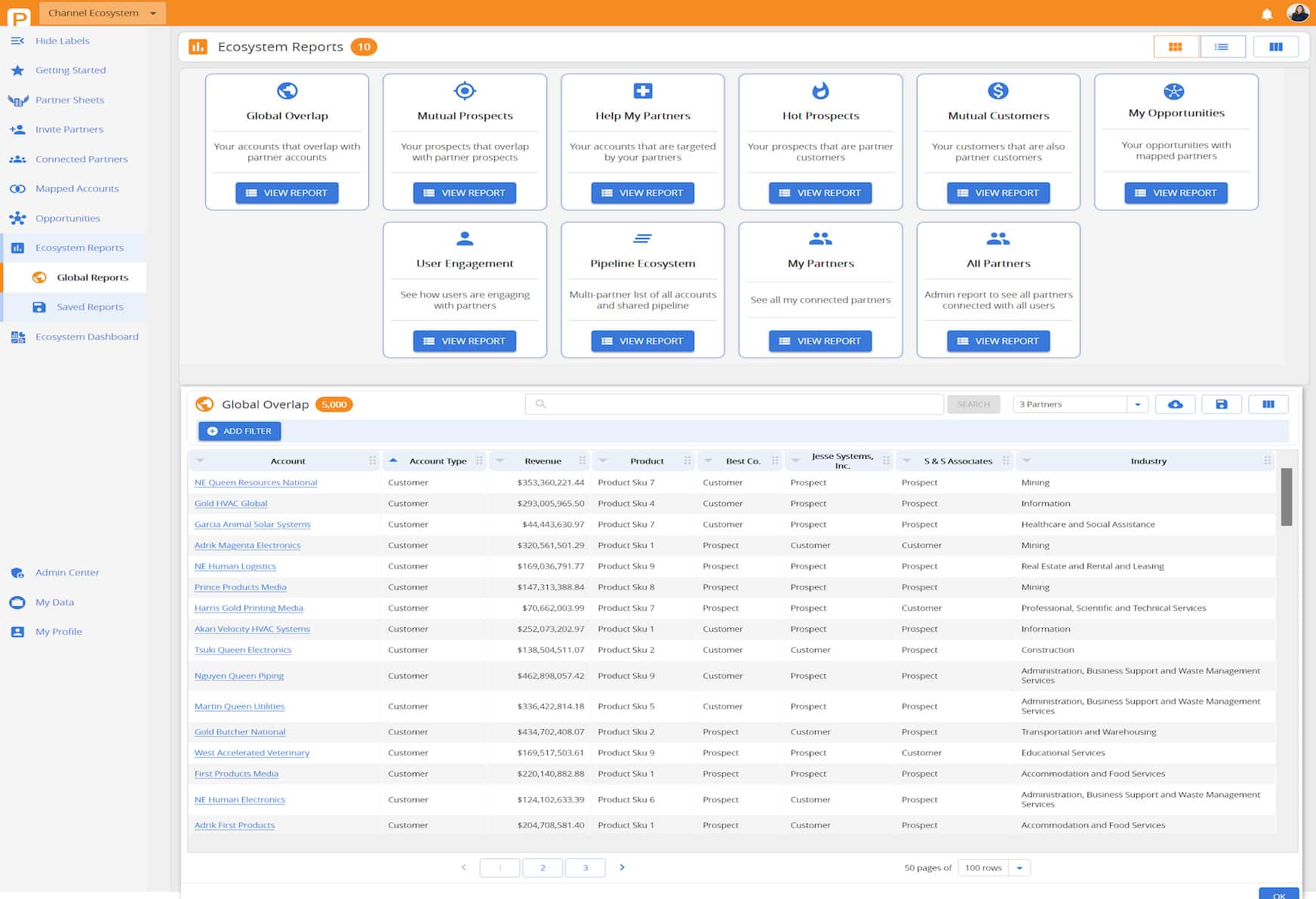 3. Identify areas to grow revenue
Our reports show you exactly where partners can help you sell into new accounts, where you can help your partners expand into your clients, and where you can work together to displace competitors.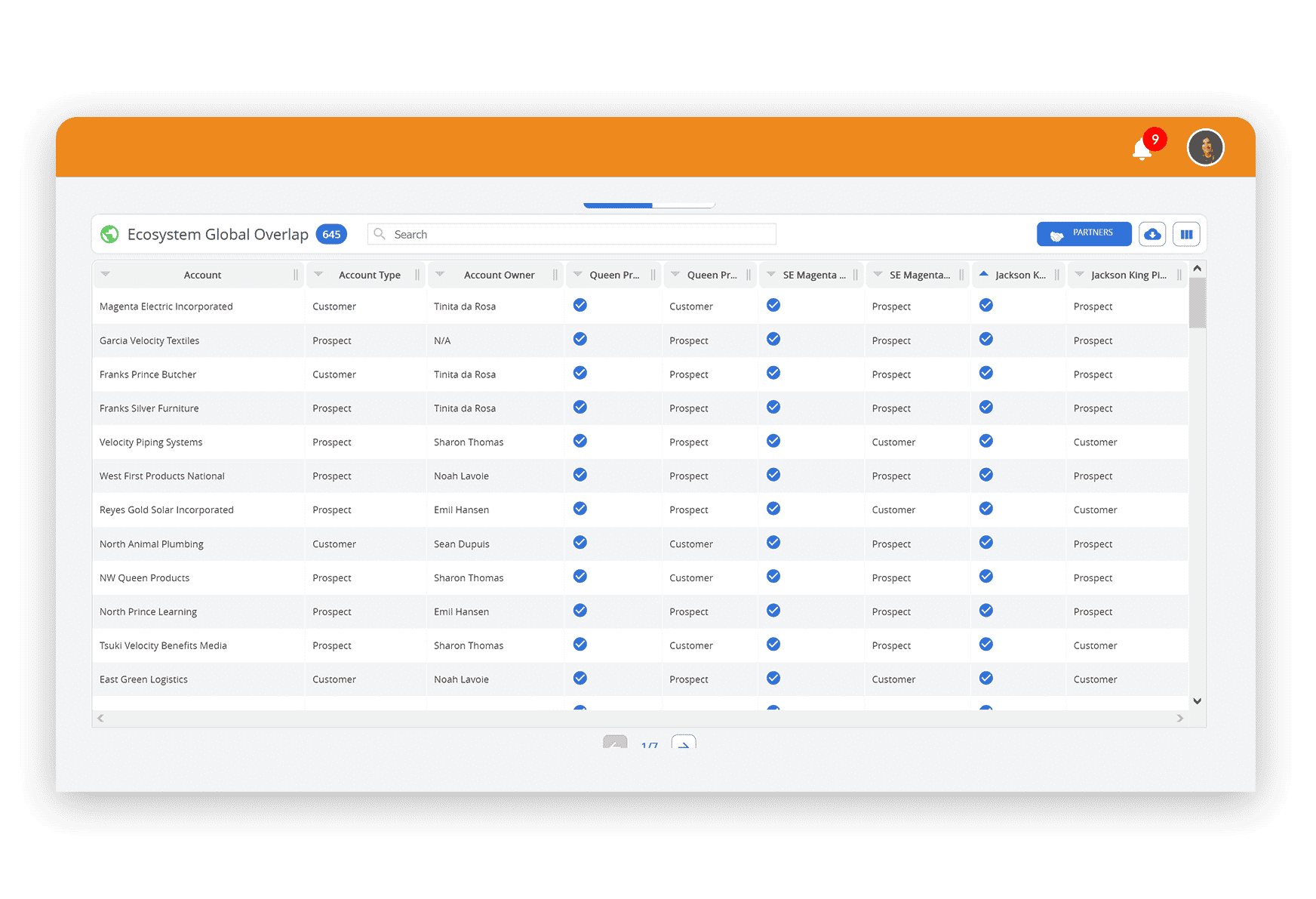 4. Share ecosystem influence dashboards
As each of your partners connects their CRM system with PartnerTap you will get an ever-growing view of real-time mapped accounts with each partner.
When you start using PartnerTap to dive into your mutual account overlap with each partner it's easy to identify new ways to grow revenue. One customer grew 3x pipeline in their first quarter uploading partner spreadsheets into PartnerTap. Here are just a few reasons channel, sales, and sales operations teams never want to let go of our powerful partner ecosystems analytics software:
Identify top partners driving new pipeline across each segment and region. Quickly see which partners are making the biggest impact overall, and within specific regions or product lines.
Ensure sales reps are properly credited for the work they do on each deal
Partner field engagement insights across your ecosystem
Shine a light on partner contributions to revenue
Shorten sales cycles with engaged partners and partner intelligence on your active accounts
Show your partners' influence on pipeline and revenue
Track sales activities with partners and see which reps need help learning to work better with partners
"Imagine how many trade shows our GSMs [sales reps] would need to attend in order to build such a large and successful network in that time!"
PartnerTap Makes Companies More Money – Every Day
more partner
sales opportunity
deal sourced and closed
with PartnerTap
real-time
account mapping
We set out to understand the entire ecosystem around our target accounts. PartnerTap is now the single source of truth for the entire partner ecosystem around our target accounts.

– Phil Manez, Director Channel Sales, VAST Data