Sharing Controls and Enterprise Security
You decide which types of accounts and information you want to share with each partner. Maintain full control over what data you share on a partner-by-partner basis.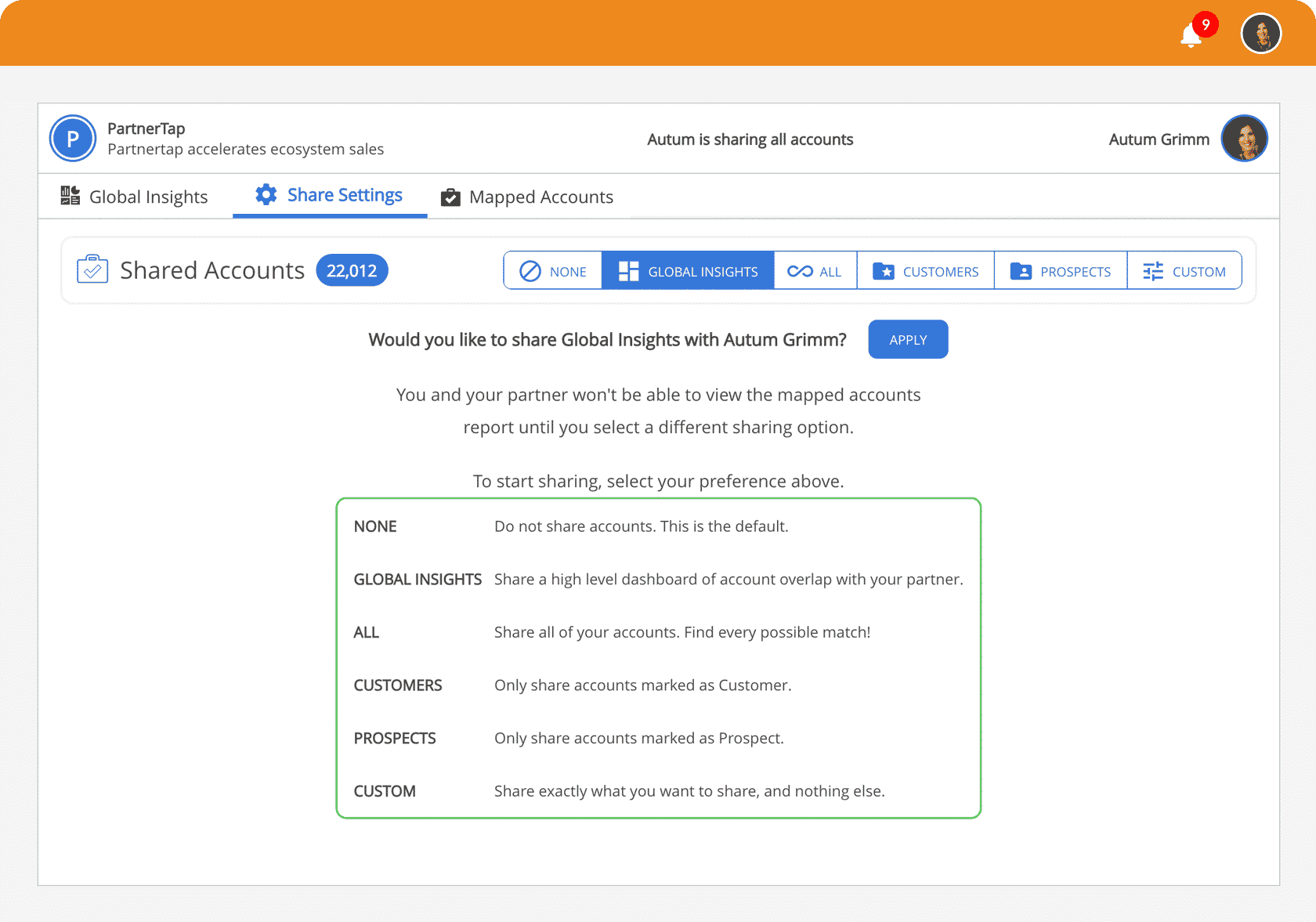 Sharing data with partners requires strong controls
The only way a company can automate account mapping and share information with partners at scale is with strong security and data controls. Swapping spreadsheets is neither secure nor controlled. That's why we built full enterprise setup controls and share settings into PartnerTap from the very beginning. #EnterpriseControls
How PartnerTap enterprise security and sharing controls work
PartnerTap is designed from the ground up to support the rigorous security and compliance requirements of the enterprise.
1. Protect sensitive accounts
During your initial setup process we help you define the types of accounts you want to pull into PartnerTap and identify sensitive accounts that should never be pulled in or shared with partners.
2. Customize your fields
We make it easy to customize and map which fields you want to pull into PartnerTap from your CRM system. Enrich your ecosystem analysis by pulling in existing client products, account revenue, and any other information from your accounts and opportunities.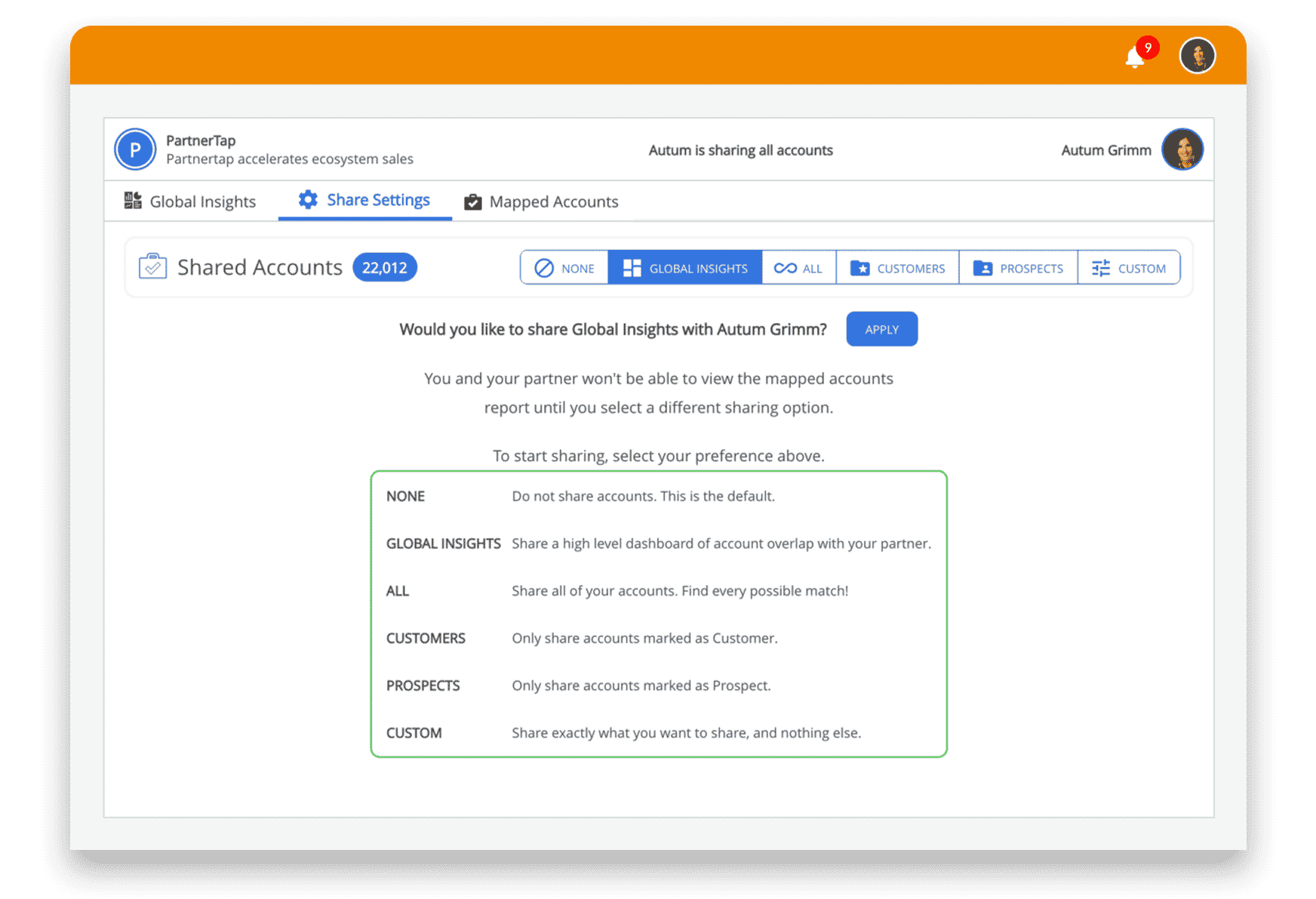 3. Partner-specific share settings
Not all partners are equal and we know one size doesn't fit all. Our Share Settings let you define what types of accounts and information you want to share with each partner on a partner-by-partner basis.
4. Trusted by enterprise customers
PartnerTap is trusted by enterprise customers who take data security very seriously. America's largest payroll company trusts PartnerTap to protect their data and let their sales and channel teams collaborate with partners online.
We take protecting customer data very seriously. We deliver a cutting-edge, secure solution with a continuous integration approach where code is continuously scanned for vulnerabilities and quality assurance. PartnerTap is built on the most-trusted cloud platforms with enterprise-class infrastructure, security and reliability.
Third-party validation: all customer data in PartnerTap is hosted exclusively on the world-class cloud infrastructure of AWS and Azure.  An independent audit confirmed that the security offered by these platforms go far beyond what most companies have been able to achieve on their own. In addition to the latest technologies, world-class security requires ongoing adherence to best-practice policies. To ensure this adherence we follow SOC2 compliance best practices including independent audits and third-party penetration testing.
HR Policies & Training: all PartnerTap employees must pass a background check and onboarding process that includes security training before beginning work. Engineers must take a more in-depth training that outlines code change policies, code review policies, vulnerability detection and security best practices.
Secure & Scaled: many PartnerTap customers are global corporations from industries where security and data privacy are particularly critical, such as human capital technology.  We allow our customers to administer control over data introduced to PartnerTap through processes to block sensitive records. We also provide a cloaking mechanism for companies so they do not appear in PartnerTap when searched for outside of their designated ecosystem.
Application Level Security: we protect your data by ensuring that only authorized users can access it. Administrators assign roles that determine which data users can access. All data is encrypted in transfer. All access is governed by strict authentication and authorization security policies. Passwords are never stored within PartnerTap. Applications are continually monitored for security violation attempts.
Protection at the Network Level: multi-tenant systems ensure there is no asset overlap between QA, Stage and Production environments.  Each tenant resides in its own private network with isolated data, storage, and compute resources. The only components with a public IP address are the load balancers and VPN servers. Load balancers are protected by a network security group that only allows connections over the secure 443 port. All VM disks are encrypted. PartnerTap personnel access the infrastructure for deployments and maintenance via MFA protected VPN.
Additional Information: we recognize that you will have additional questions about security, beyond the basics covered here. Please contact support@partnertap.com for more information about the policies, practices and technologies in place to protect your data.
PartnerTap Makes Companies More Money – Every Day
more partner
sales opportunity
deal sourced and closed
with PartnerTap
real-time
account mapping
We saw an ROI in the first quarter using PartnerTap. We closed two new customers and accelerated the sales cycle on numerous other prospective accounts.

– George Gadebusch, VP Technology & Product Sales, World Travel, Inc.