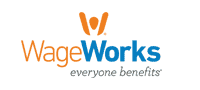 PartnerTap helps WageWorks rise above the crowd with larger partners like ADP
WageWorks is an undisputed leader in the administration of Consumer-Directed Benefits – from Health Savings Accounts (HSAs), Flexible Spending Accounts (FSAs) and Health Reimbursement Arrangements (HRAs) to commuter and wellness programs. WageWorks' saving and spending plans make it easier for people to use pre-tax dollars for healthcare, dependent care, commuting to work, and more– and keep more money in their pockets. Simply put, WageWorks give people power over their physical and financial health. Founded in 2000, WageWorks stands as a key influencer of healthcare reform, leading lobbying efforts on behalf of our clients and participants in Washington.
"We know big companies want to work with innovative companies, but it can be hard to get their attention. PartnerTap makes us stand out with larger companies and engage directly with the thousands of reps at each company."

– Melanie Hallenback, SVP of Sales, Carrier & Partnerships
WageWorks' success highlights using PartnerTap to engage with larger partners:
Joined PartnerTap to connect automatically with sales teams at their largest partner ADP.
Connected PartnerTap directly with internal Salesforce.com CRM system.
Account Executives at WageWorks can now connect directly with sales reps across much larger companies to align on mapped accounts, drive new leads, share intel, and collaborate on new deals.
"The HR technology and services brokers in our industry have lots of options for who to work with. Being connected to sales teams at ADP gives us a big advantage and gets us an outsized share of their referrals."

– Melanie Hallenback, SVP of Sales, Carrier & Partnerships
As a sales leader I know how important our partners are for our current and future revenue growth. PartnerTap helps us prioritize who to partner with on each account, collaborate with sales reps at each of our partners, and co-sell into target accounts.

– Chris Welch, VP Sales, Direct Travel