Get segment-by-segment overlap analysis and lists of specific accounts your sales team can target immediately with each partner.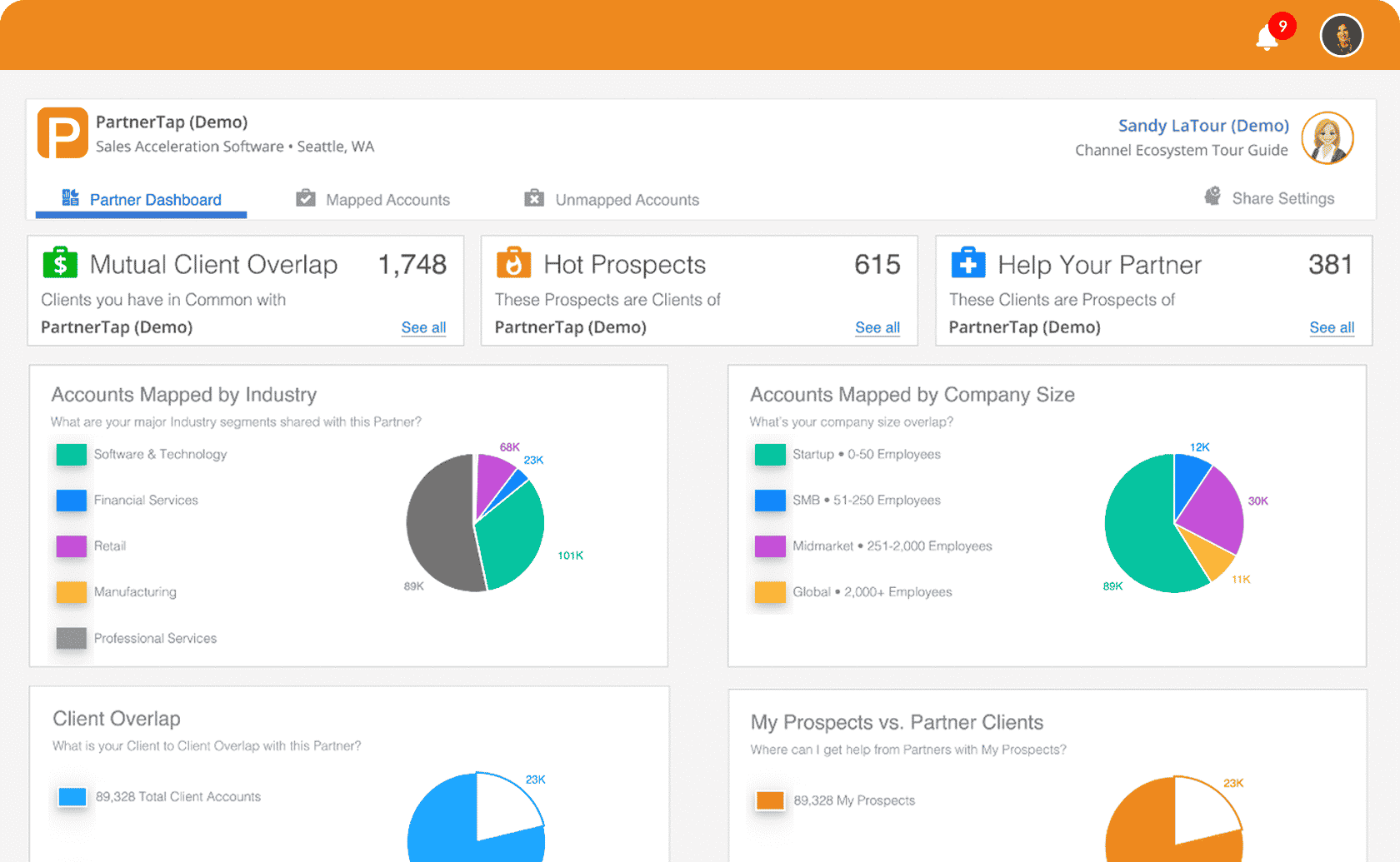 Generate more revenue from each partnership
If you already have partners, then the pressure is on to deliver results. But turning great partnership intentions into real pipeline and revenue is hard. Without visibility into each other's accounts, it is hard to know where to focus. That's why we built PartnerTap Channel Insights and Channel Essentials. #ChannelSuccess
How channel and alliances teams use PartnerTap
PartnerTap automates account mapping with your partners and identifies where you have mutual clients, mutual prospects, and opportunities to sell into each other's accounts.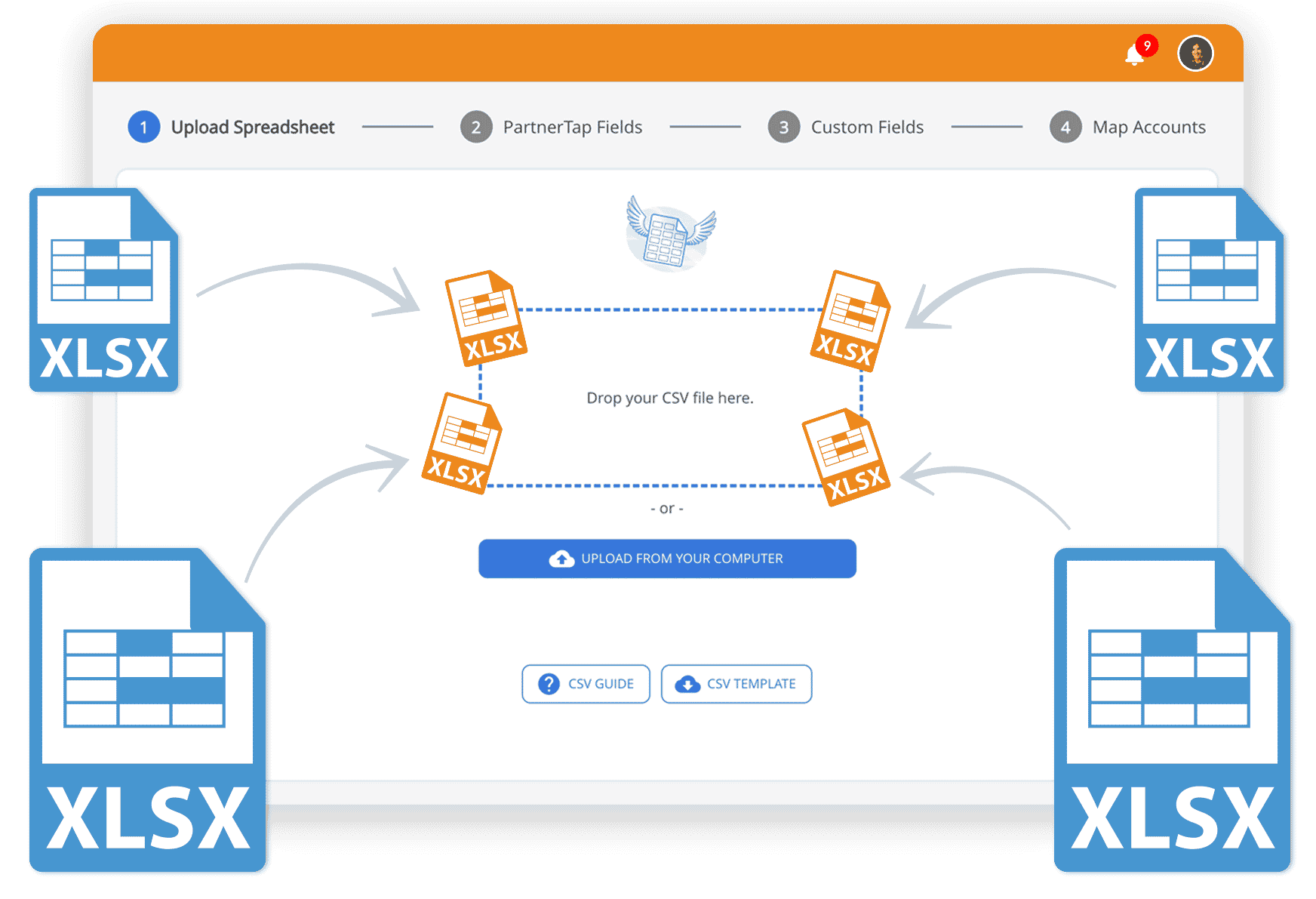 1. Upload all your partner spreadsheets

Login with your CRM and then upload all the spreadsheets you already have from partners. This will give you a dashboard view of your account overlap with each partner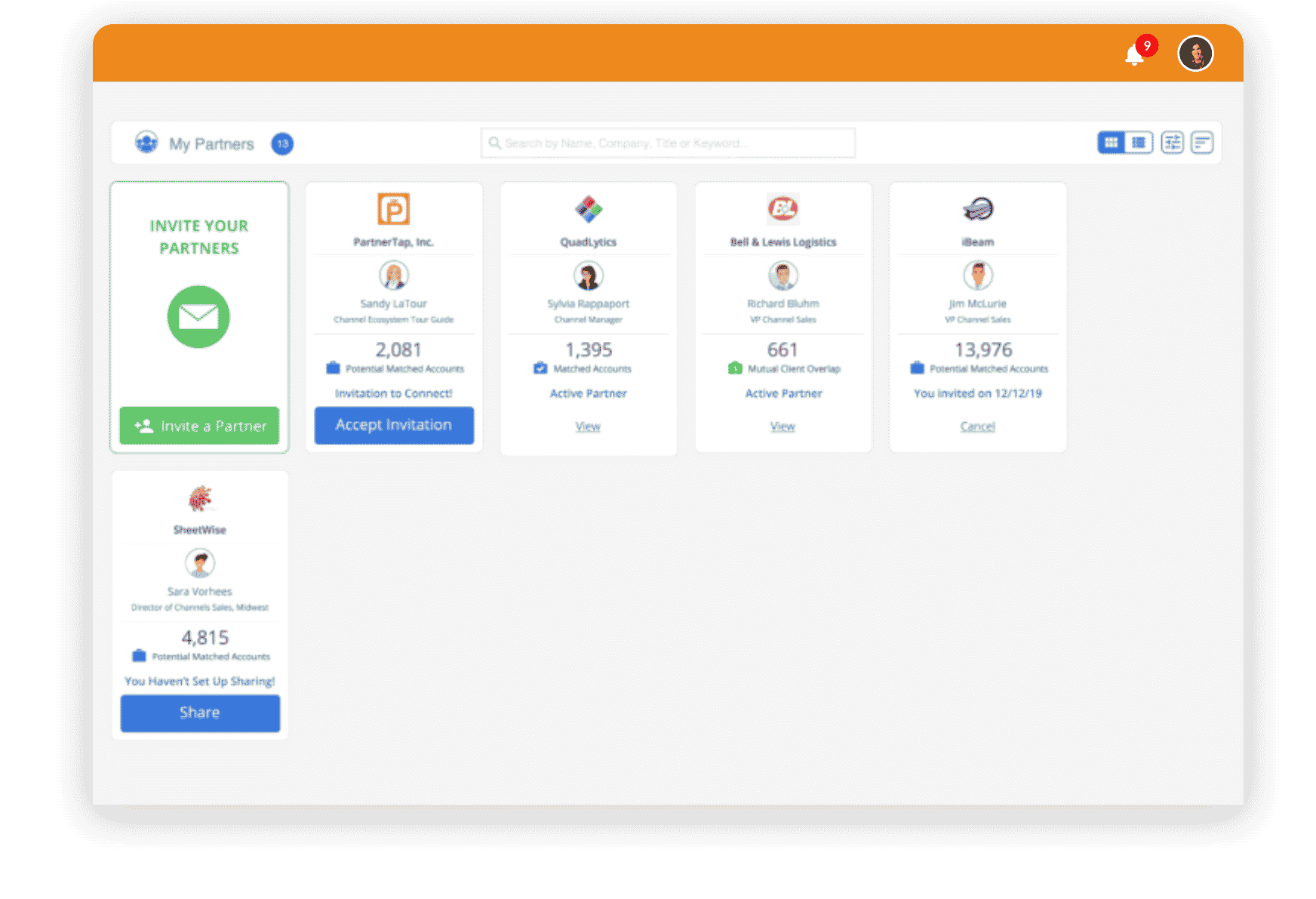 2. Invite partner to connect directly
You can eliminate the spreadsheet process entirely by inviting partners to connect with you directly on PartnerTap for an always-up-to-date view of your mutual account overlap. Our enterprise share settings let you control what data you share on a partner-by-partner basis.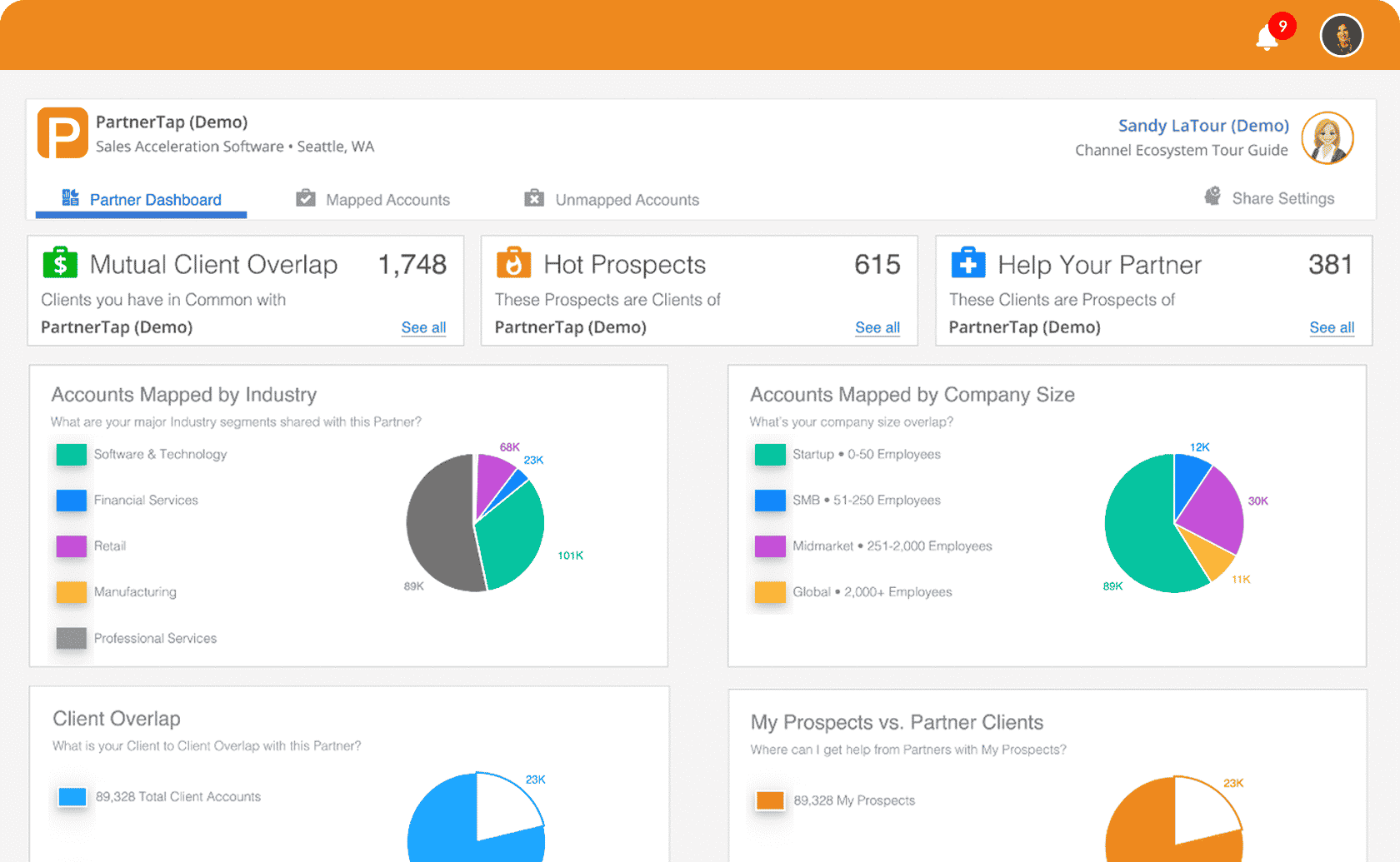 3. See your market opportunity in each segment
The Channel Insights dashboard shows your % overlap by industry, by segment and by customers vs. prospects for each partner. The best alliances teams use this data to shape their vertical and sales alignment strategies with each partner.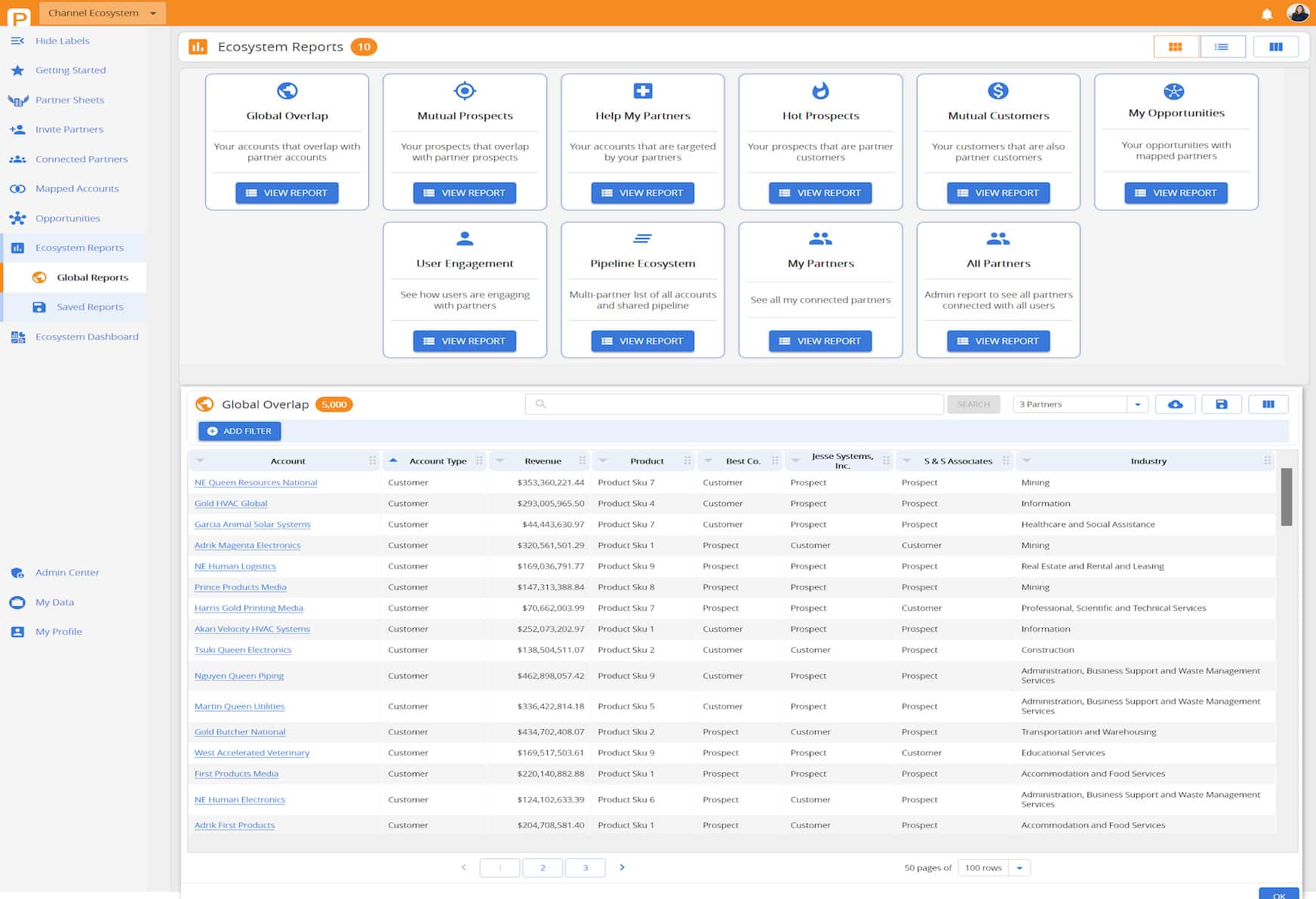 4. Identify new sales pipeline across your ecosystem
Reports make it easy to see specific accounts where you can drive more revenue with partners. The Hot Prospects report identifies where your partners can help you sell into their existing clients.
Channel, alliance and business development teams love the PartnerTap channel product because it helps you drive more revenue from each partnership. Here are just a few of the many ways our channel mapping software helps business development, channel and alliance teams:

Stops the spreadsheet madness so you can focus on driving revenue instead of looking up individual accounts
Identifies new sales pipeline opportunities for you with reports that identify specific accounts where you and partners can collaborate to grow revenue
Makes you a rock star with your sales team that loves the new opportunities you send over
Impress and onboard new partners with a modern, automated account mapping process that lets you both hit the ground running and show partnership results quickly
Protects sensitive accounts by letting you define up front which account types you want to allow to be shared with partners, and identify specific named accounts that should never be shared with anyone
Ensure all compliance and security requirements are met with an enterprise-secure platform that sails through IT security review
"Imagine how many trade shows our GSMs [sales reps] would need to attend in order to build such a large and successful network in that time!"
Download the Channel Products Datasheet
PartnerTap Makes Companies More Money – Every Day
new pipeline sourced in first year*

*enterprise customer with first connected partner
current opportunities
shared with partners
We saw an ROI in the first quarter using PartnerTap. We closed two new customers and accelerated the sales cycle on numerous other prospective accounts.

– George Gadebusch, VP Technology & Product Sales, World Travel, Inc.