Co-selling and partner sales collaboration
PartnerTap helps sales teams connect directly with reps at each partner and identify new sales opportunities in each territory.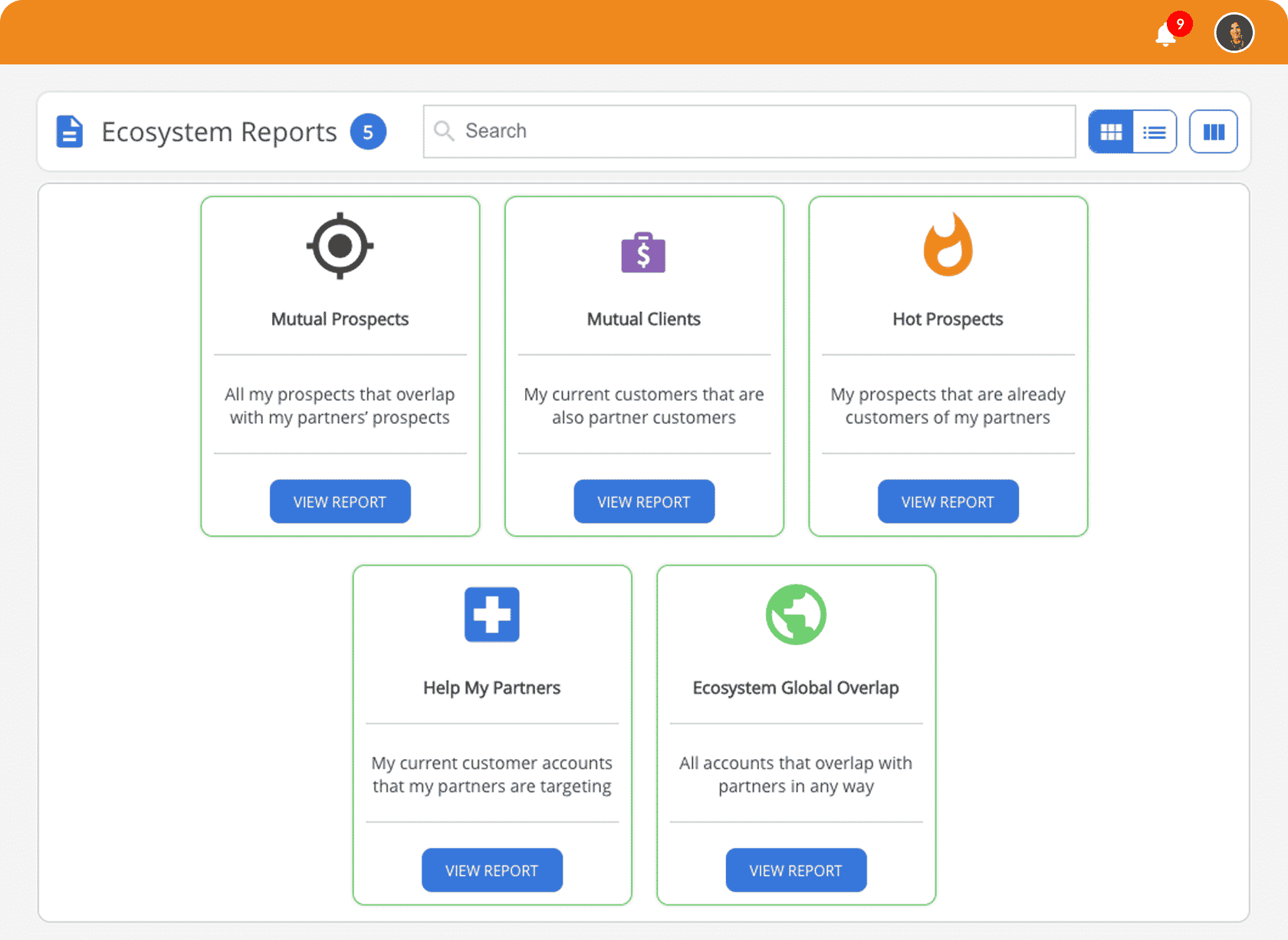 Triple pipeline and accelerate deals with partners
Sales collaboration with partners drives billions of dollars of sales every year. Your best sales reps know this and already work closely with partners. PartnerTap makes it easy for every sales rep to partner like a pro with always-up-to-date mapped accounts and built-in chat to communicate with partner reps. #CoSellingSuccess
PartnerTap helps your sales teams sell more with partners
With PartnerTap it is easy for sales reps to identify shared accounts, share insights, and drive more revenue with trusted partners.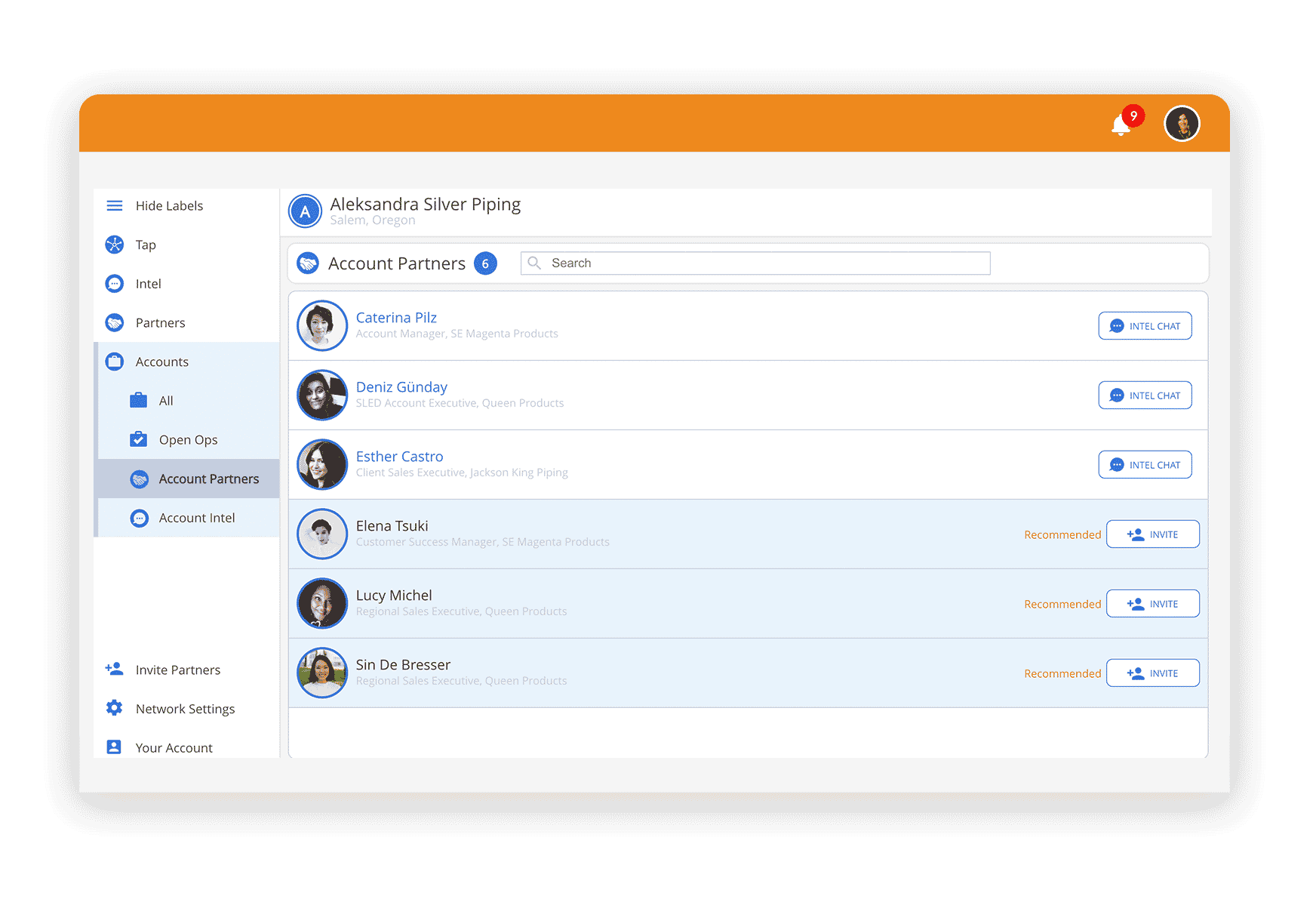 1. Connects reps on shared accounts
PartnerTap connects sales reps directly with their peers at each partner on an account-by-account basis. You can even see your matched partners on each account right inside Salesforce.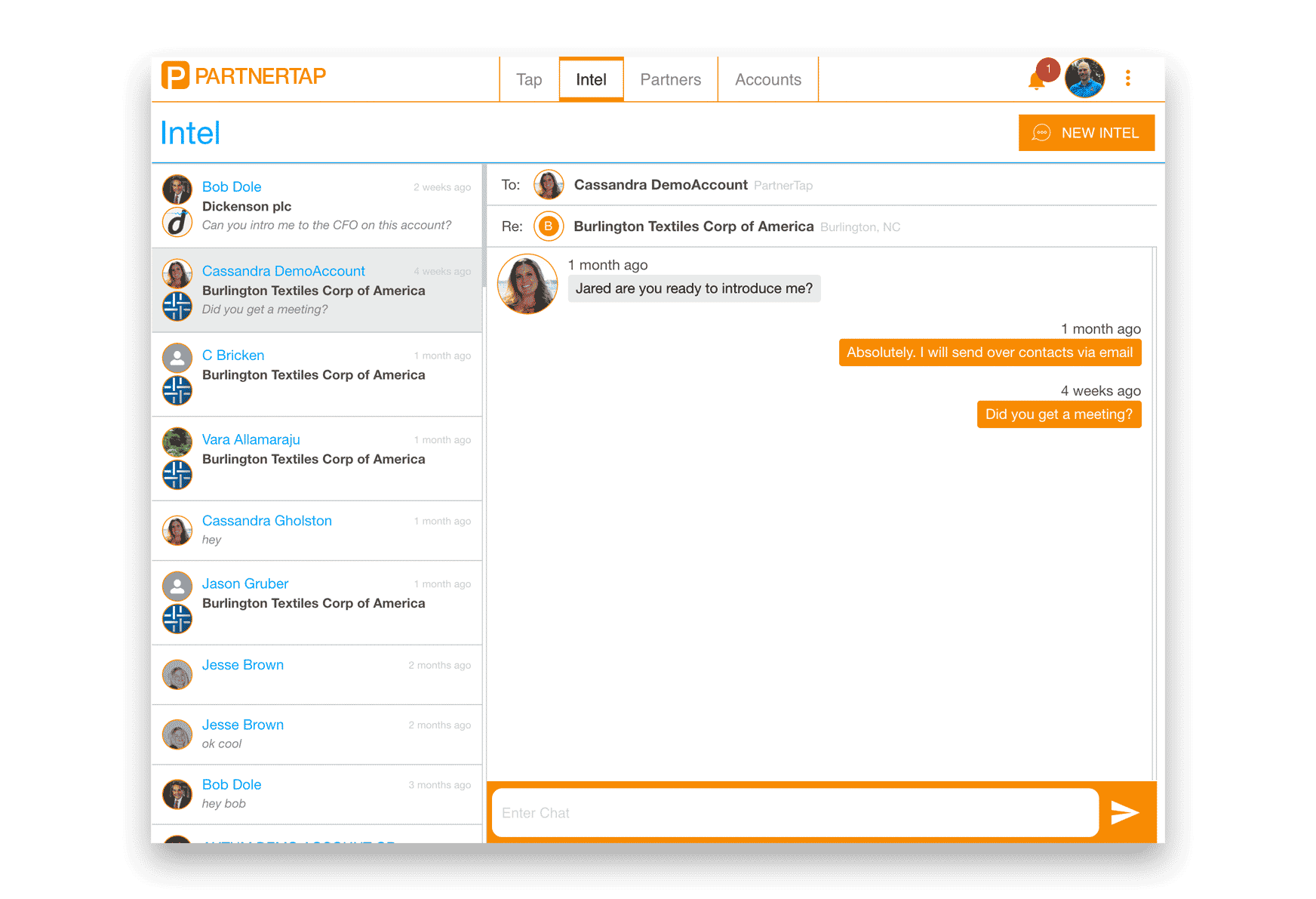 2. Integrated chat messaging
Built-in chat makes it easy for account executives to connect and share intelligence about shared accounts and new opportunities. All conversations are saved back into both sales reps' CRM as account activities.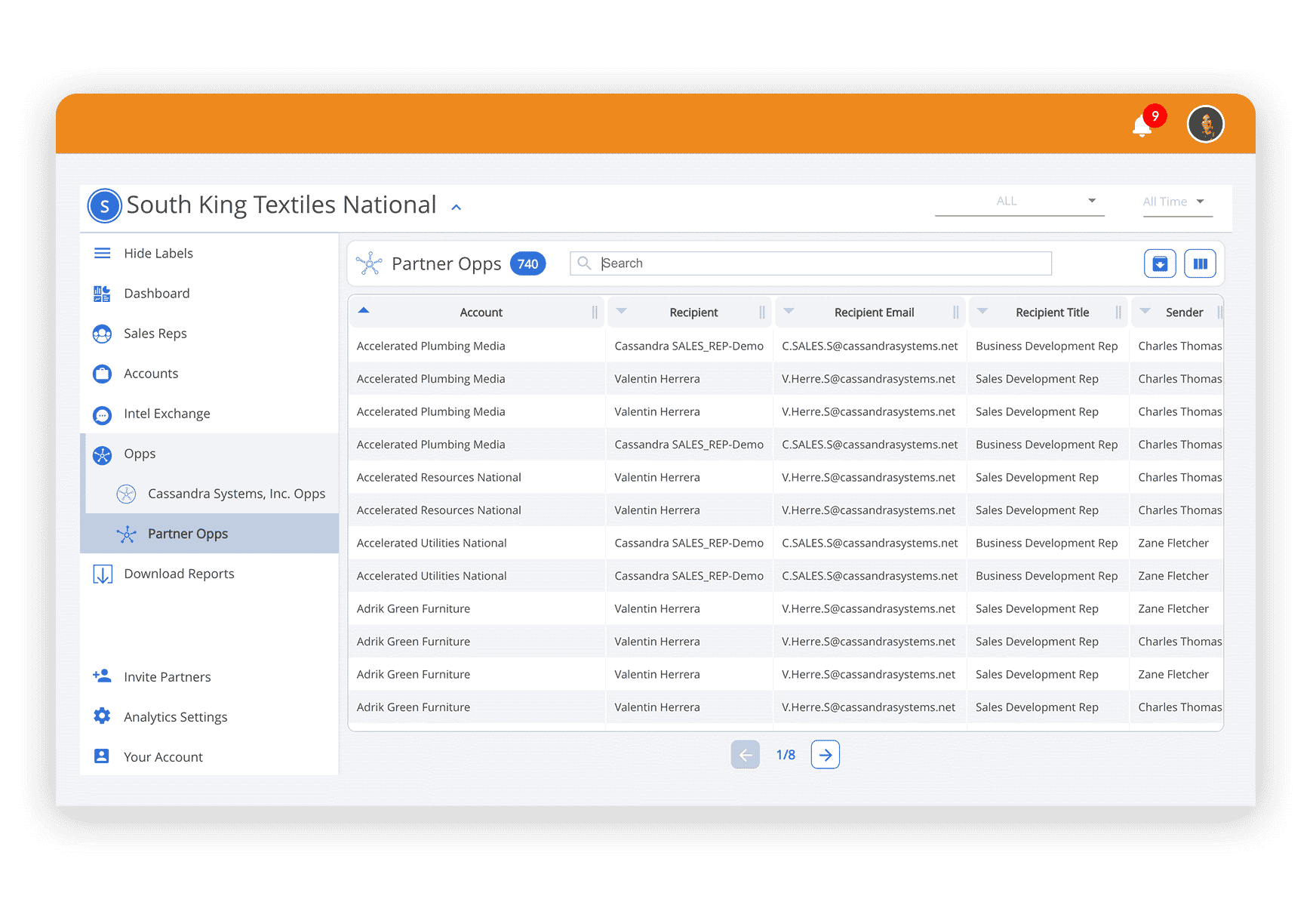 3. Identifies and accelerates deals
Sales reps can choose to share current opportunities with trusted partners. This shared visibility helps your partners keep an ear to the ground When you invite a partner to connect with you on PartnerTap they will receive an email with a link. Once they accept and sign up for PartnerTap you will be able to share selected data with them.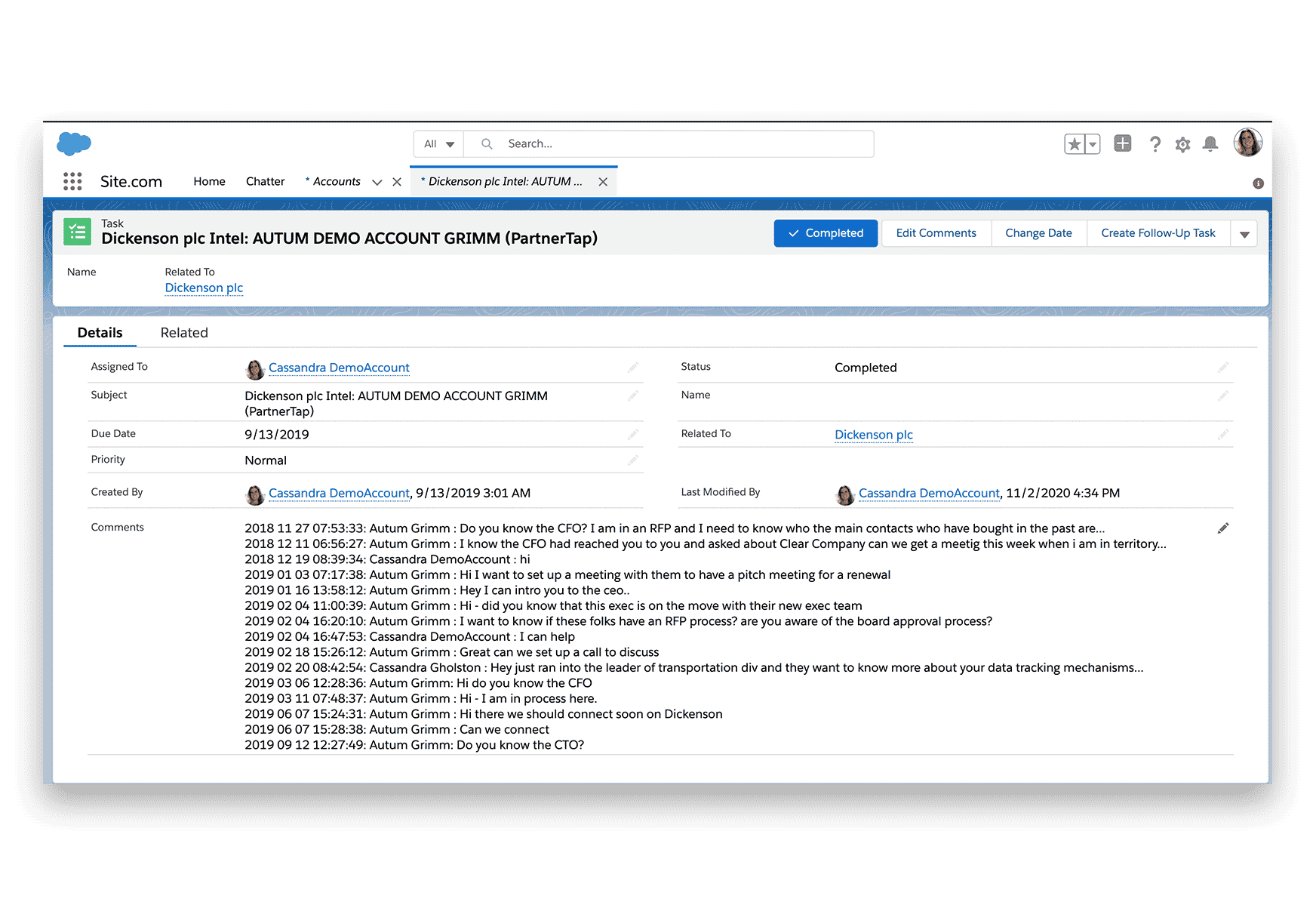 4. Accelerate deals with partners
Your partner sales reps will share the scoop on accounts over chat much more freely than they do through official work emails. But don't worry – we capture all of the chat conversations and post them automatically into activity records in both partners' CRM system so future account owners can get up to speed quickly.
Account executives often tell us that if their next company doesn't pay for PartnerTap they will pay for it themselves. Sales teams rank PartnerTap as a top 3 sales solution – right up there with LinkedIn and Salesforce. Here are just a few reasons sales teams never want to go back to the old way of working with partners:
Our automated account mapping solution finds the sales reps at each partner that also sell into your accounts – so you never have to scan through spreadsheets again
Get started fast by just uploading all the spreadsheets your various partners have already sent you
Don't need to remember another password – simply use your Salesforce or Hubspot username and password and PartnerTap will connect directly with the accounts you own.
Built-in chat collaboration gives you real-time access to your partner sales reps and the easiest way to share tips about specific accounts
Share and get insights about your accounts from other reps that have successfully sold to them in the past
Share opportunities with your trusted partners to keep everyone involved with a co-sale deal on the same page
Analyze the revenue sourced and influenced by each partner across your ecosystem.
Ensure reps on each side are properly credited for the work they do on each deal. 
Help new reps get up to speed quickly on their existing clients and target accounts with a full history of all partner sales chats saved inside your CRM activity history
Focus on your relationships instead of your data during conversations with partners
Keep your finger on the pulse of each account with partners able to quickly share information they hear about opportunities, competitors, and opportunities to expand
"Imagine how many trade shows our GSMs [sales reps] would need to attend in order to build such a large and successful network in that time!"
PartnerTap Makes Companies More Money – Every Day
more partner
sales opportunity
deal sourced and closed
with PartnerTap
real-time
account mapping
There was a legit round of applause for PartnerTap when I introduced it at SKO this year. What really got our reps excited was seeing all their partner data on each account right inside Salesforce.

– Phil Manez, Director Channel Sales, VAST Data