Connected Sales Partner "Co-Selling" Platform
Close more deals faster with partners
Connect your sales team with your strategic partners so they can accelerate sales cycles and uncover new opportunities.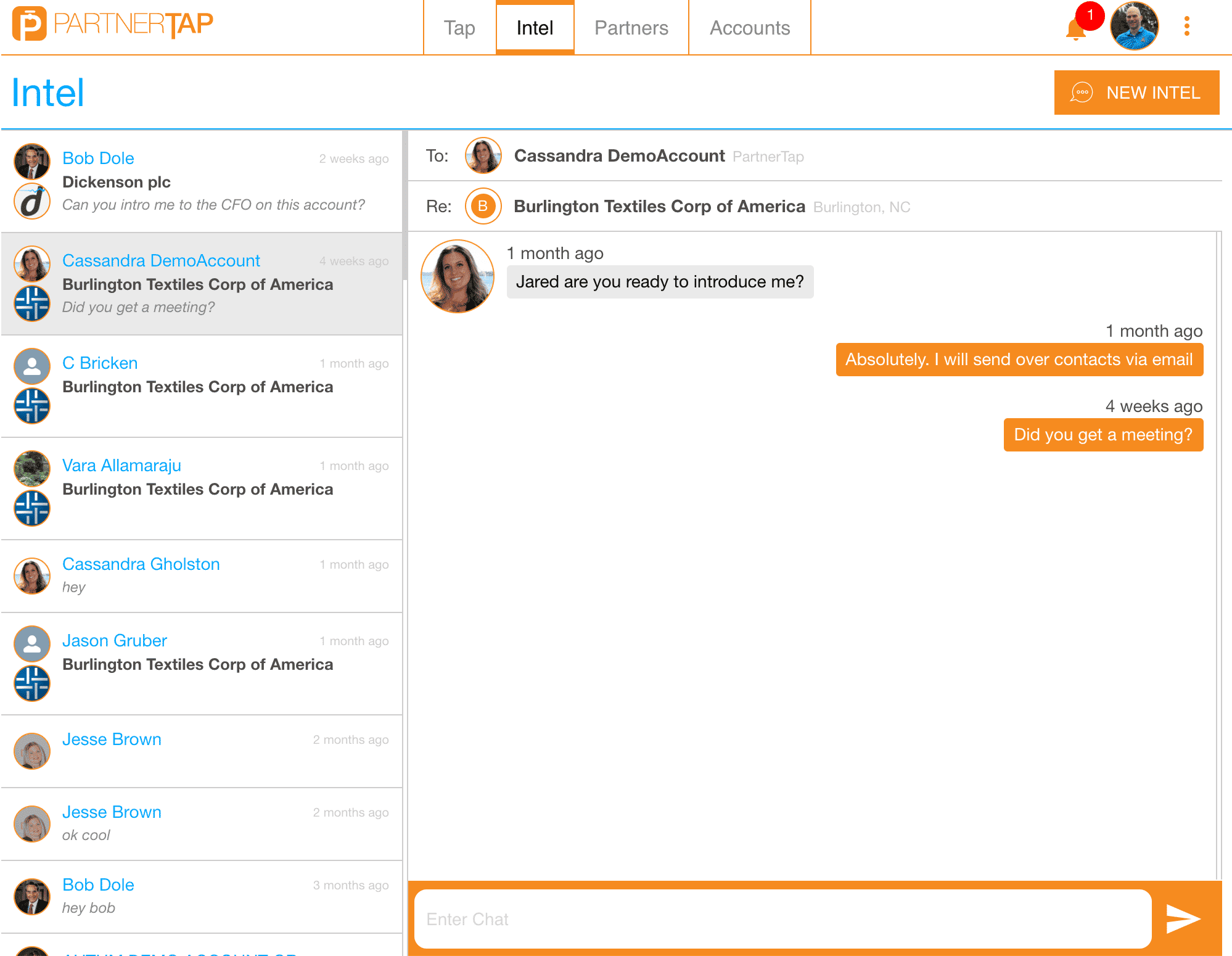 Invite your favorite partners
Lots of ways to share accounts
Once your reps are on PartnerTap they can see your strategic partners, and invite others to share accounts via spreadsheet upload or a direct CRM connection.
See the right account executive on each account
Once your sales team is connected with a partner they will always have the answer to this age-old question: "Who is the partner rep on my account?"
Build stronger partnerships
Lead with reciprocity and streamline your work: auto-share opportunities with your most trusted partners, or invite a partner to engage on your account on a controlled case-by-case basis.
I used to waste hours each week trying to figure out who to work with at each partner company. Now with ParnerTap, I get straight to the right person every time.
– Nick Lambert, ADP District Sales Manager, Global Enterprise Solutions
Make it easy for reps to share and collaborate with partners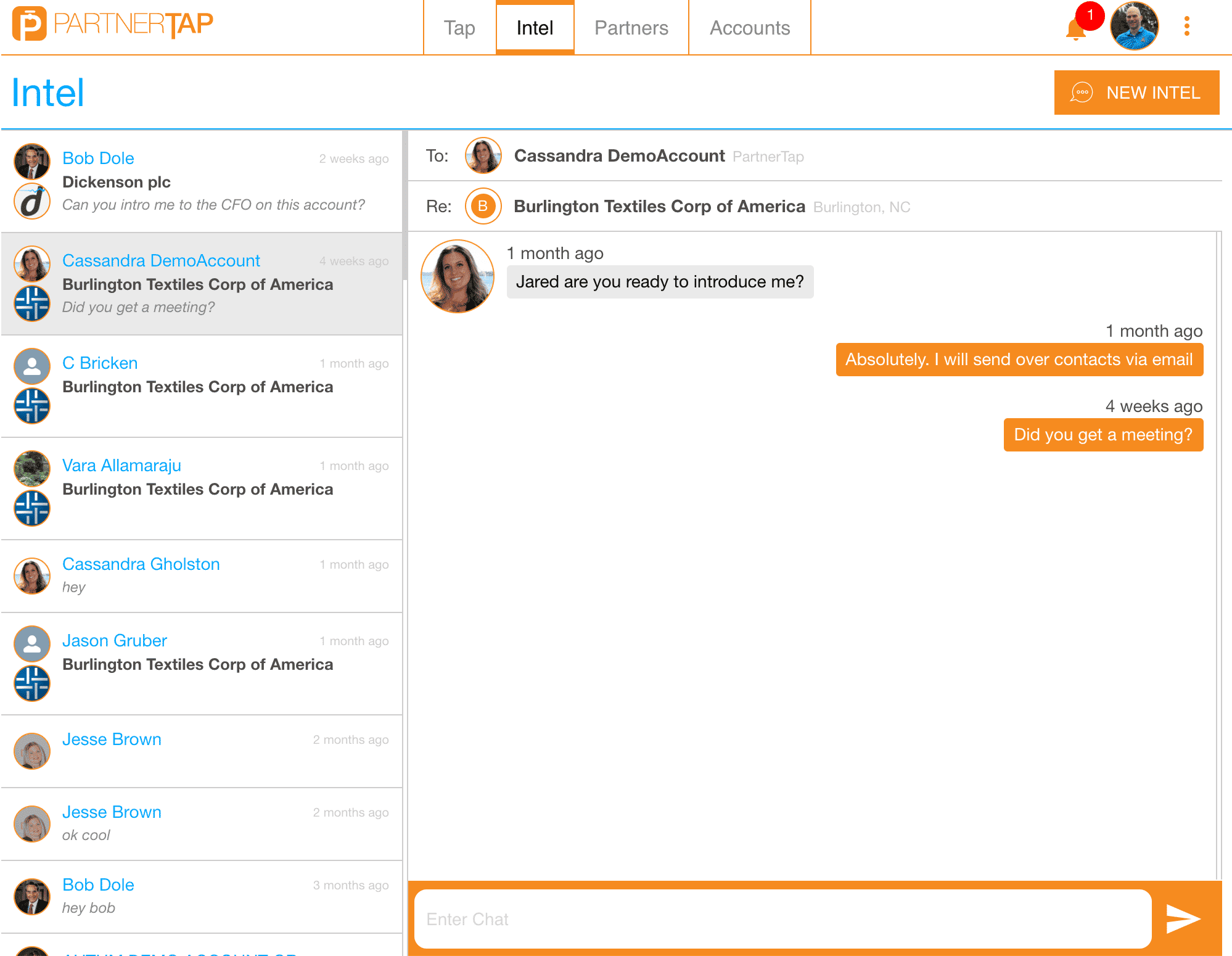 Intel chat messaging
Using PartnerTap sales reps can send messages directly to partner reps that overlap on their accounts and opportunities. All messages are saved automatically into each CRM system.
See full messaging histories
Give new sales reps an easy way to get up to speed on past conversations with partners. Immediately identify what partners to focus on and hit the ground running.
Search through past messages
Use search to find an old message from a partner rep.
Get notifications about partner activity
Instant notification when a new rep is assigned to one of your accounts or a partner opens or closes an opportunity in your territory.
My partners respond much faster when I ping them in PartnerTap than they ever did in email.
Uncover new sales opportunities from each partner
See deals partners share with me
Get instant notifications on newly shared opportunities from your trusted partners so you can engage quickly. Only see deals on your list of accounts.
Gain trust from your partner sales reps
Impress your partners with how active you are in their territories and build up your partner bank account with high quality interactions every time.
Focus on your relationships
Prepare for partner meetings with a pre-curated list of aligned accounts in each territory, so you can focus on immediate business outcomes, not mapping spreadsheets.
Keep your ear to the street
Know what partners are engaging with accounts in your territory and when there are opportunities for your products or services to help.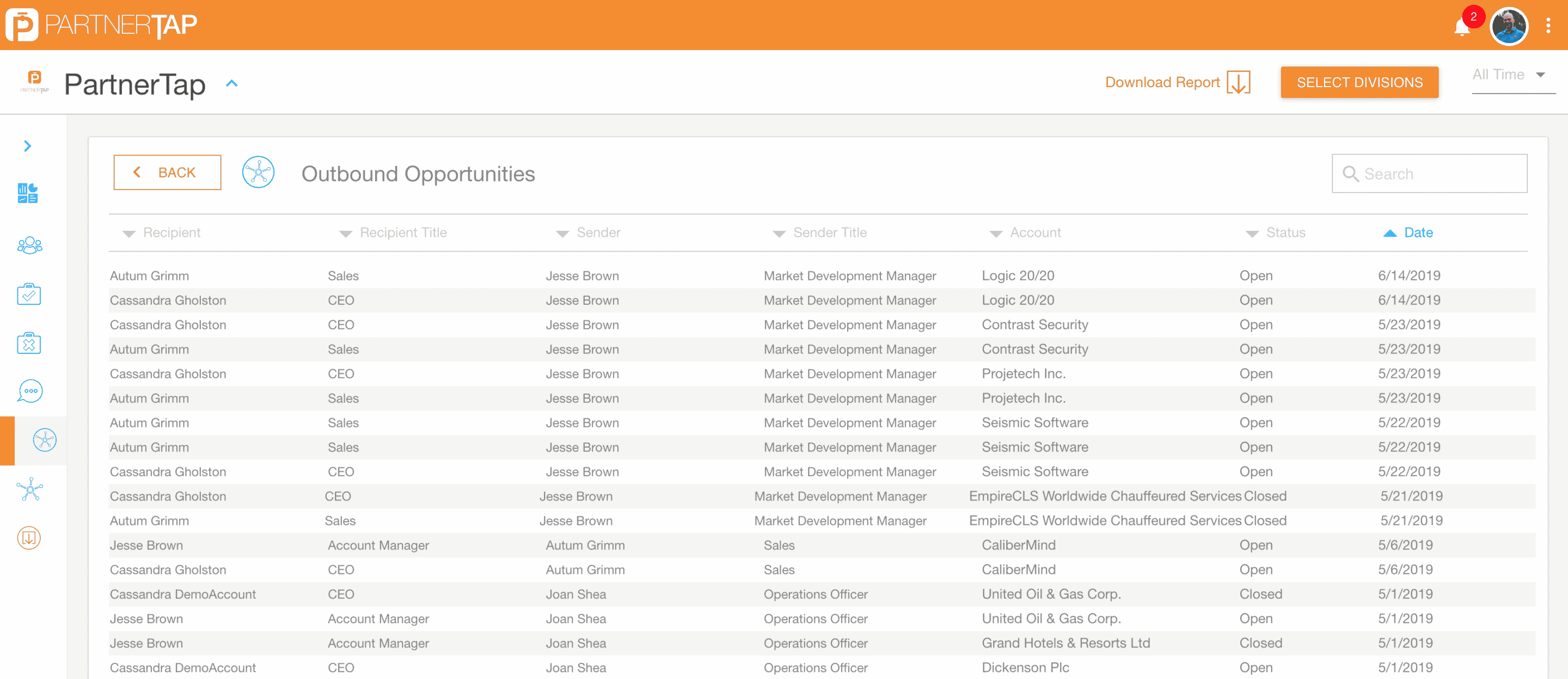 Our reps share info in PartnerTap messages that are rarely captured in CRM. With PartnerTap we get the rich perspectives of different sales reps captured in Salesforce automatically.
Help sales executives do their jobs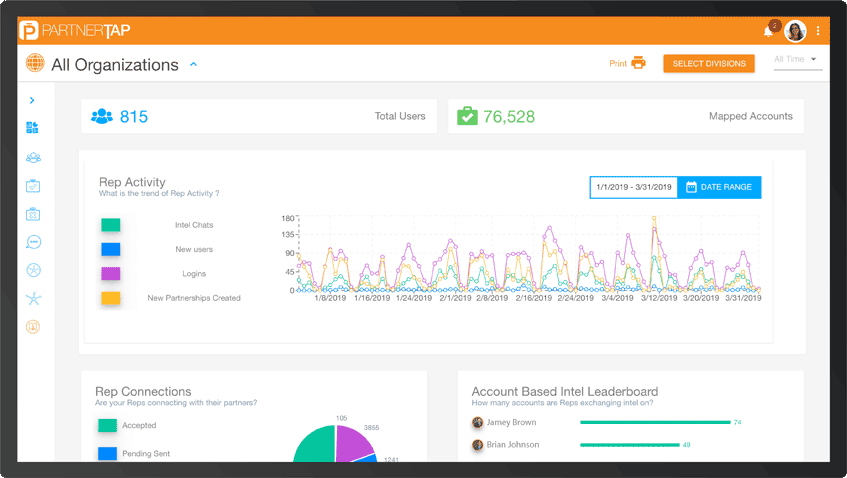 Build relationships
Sales leaders can go into partner meetings with an up-to-date view of all sourced business from each partner.
Ramp new sales reps faster
Help new sales reps hit quota faster with partner-sourced deals and support.
Help teams ramp up after a territory change
Jump-start a sales reps' success with a full view of all partners engaged on accounts in their territory.
Eliminate bogus commissions
And streamline referrals and commissions with an always-in-sync record of every partner lead and partner sales activities in both CRMs.
When I took over my new accounts PartnerTap instantly showed me where to focus and I closed 3 deals in the first six months.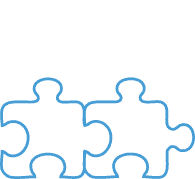 Loved by sales
The only product built by sales reps, for sales reps, and loved by sales reps on both sides of every partnership because it helps them sell more, faster.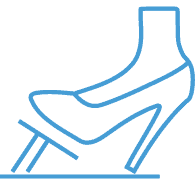 Pre-integrated with CRM
PartnerTap works automatically with the leading enterprise CRM systems including Dynamics, Salesforce, Hubspot, close.io, Sharpspring, SAP, and Oracle.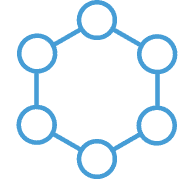 Ecosystem-scalable solution
Start using PartnerTap with a single partner then scale it across your entire partner ecosystem to expand your center of influence in key target accounts.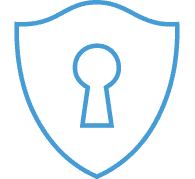 Enterprise data protection
Protect your confidential customer data with our cross-partner security & visibility engine.
PartnerTap is the best way to connect your sales team with your strategic partners so they can start collaborating and co-selling. PartnerTap's Strategic Partner Sales software is part of the PartnerTap Ecosystem Sales Platform for channel and sales teams.