Works with all popular CRM systems
PartnerTap works 'out of the box' with Salesforce, Dynamics, HubSpot, Close.io, SharpSpring, Oracle and SAP.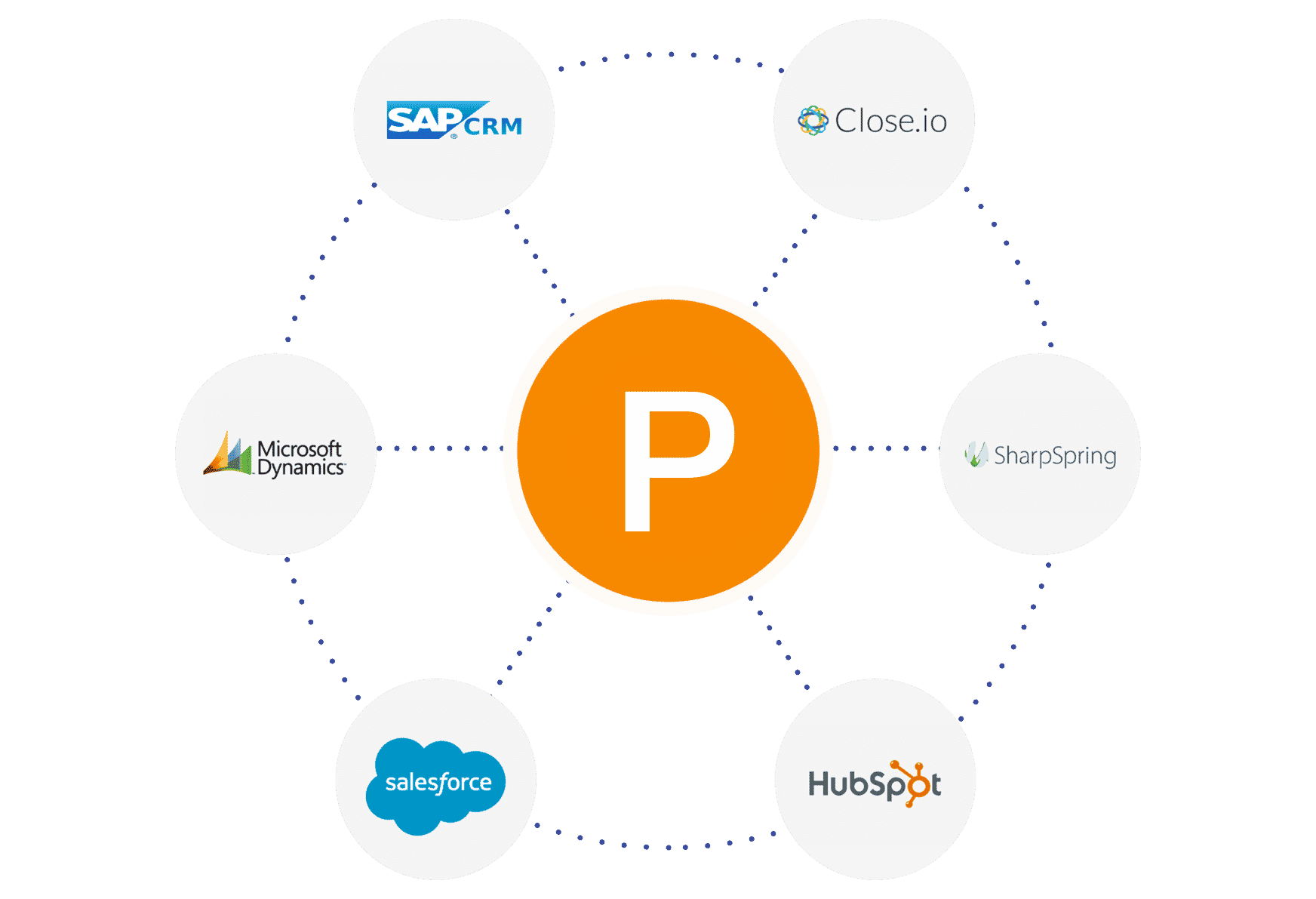 Pre-integrated with popular CRM applications

PartnerTap is enterprise approved because we take security seriously and have already done the hard work of integrating directly with the enterprise CRM and technology products that businesses use every day. Our Partner Ecosystem Platform makes it easy to connect partners using different CRM systems and gives each side full control over what data is shared.
How PartnerTap syncs with your CRM system
We make it so easy to connect with your CRM and identify account owners on shared accounts that some companies use PartnerTap to connect their internal sales teams that are stuck in different CRM apps.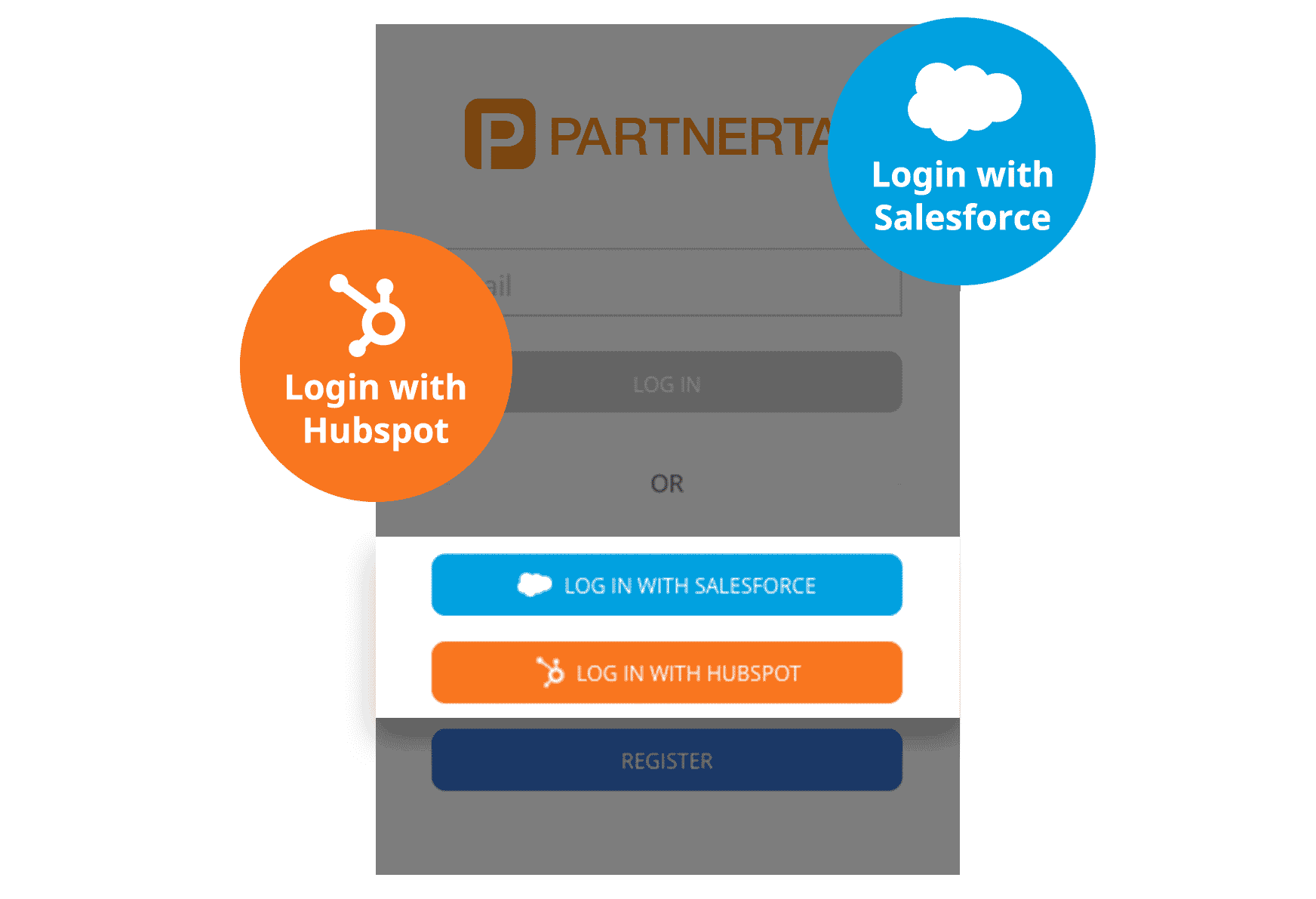 1. Single sign on with CRM
PartnerTap offers single sign-on for Salesforce and Hubspot users. All channel users and sales reps need to do is login with their CRM login and PartnerTap will automatically sync your accounts.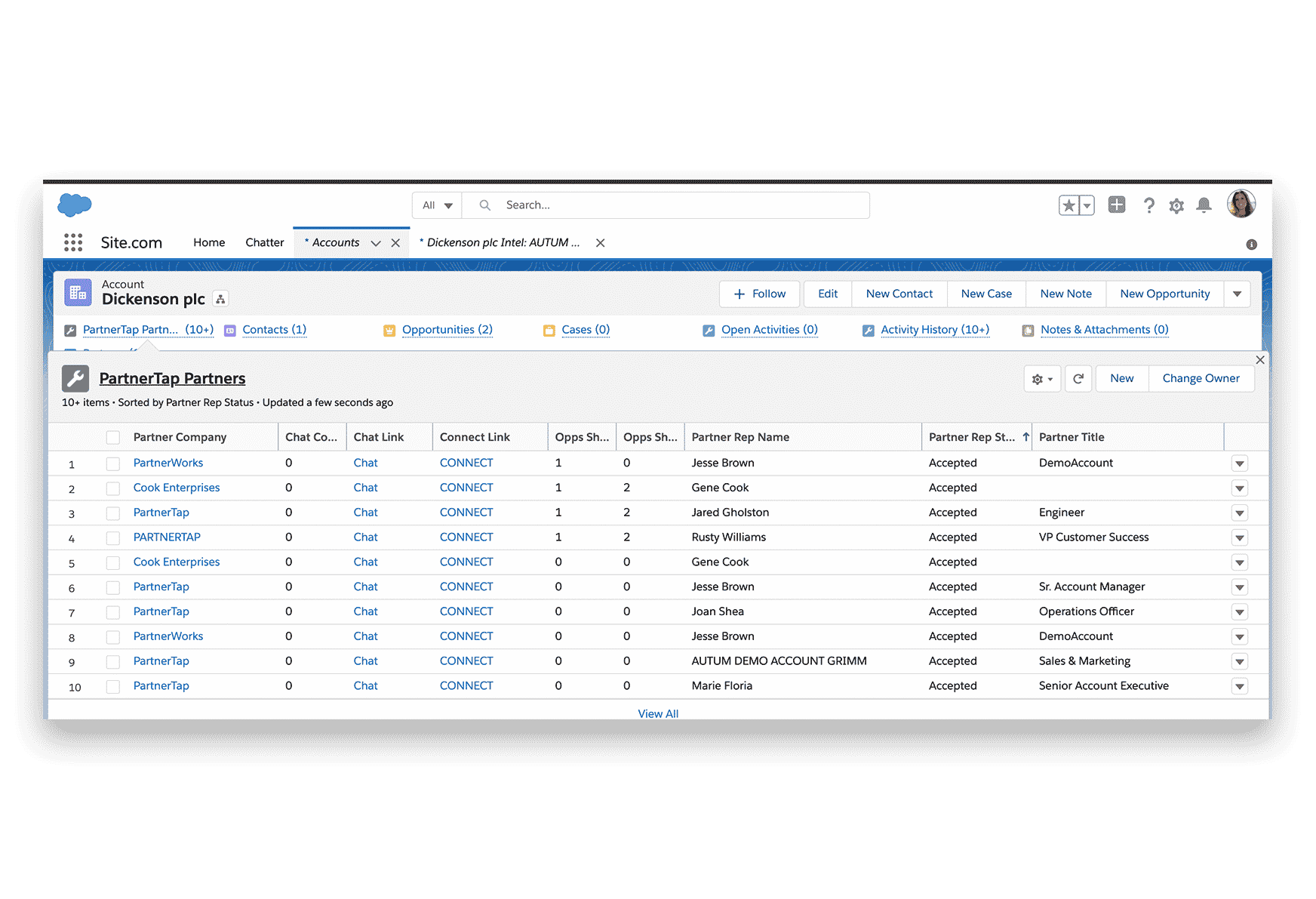 2. See partners inside Salesforce
We've taken our integration with Salesforce one step further and let Salesforce users see their matched partners on each account and opportunity right inside Salesforce.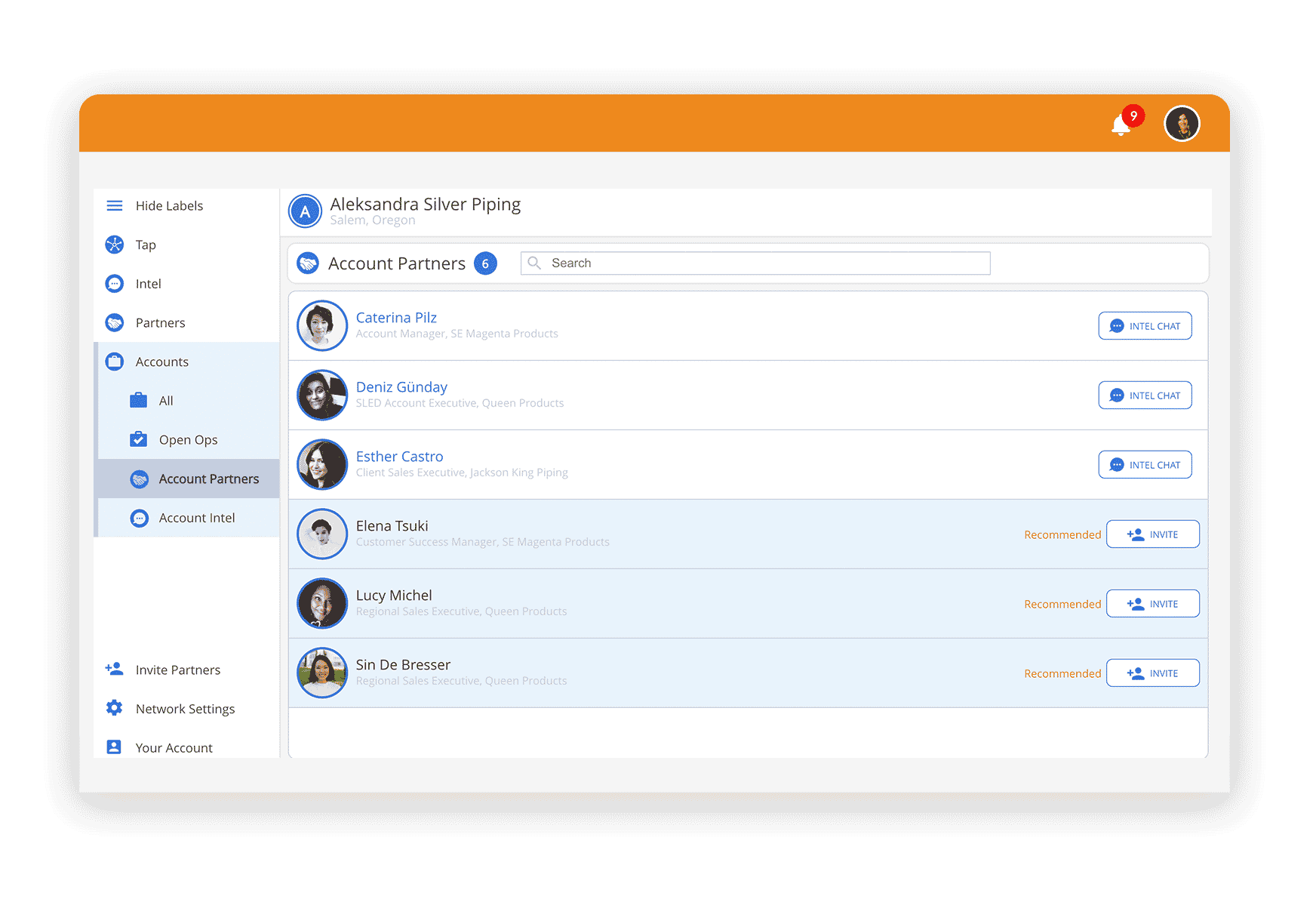 3. Real-time account mapping
When you and your partner(s) both connect your CRMs with PartnerTap you'll have always-up-to-date and real time access to your mutual mapped accounts and current account owners on each account.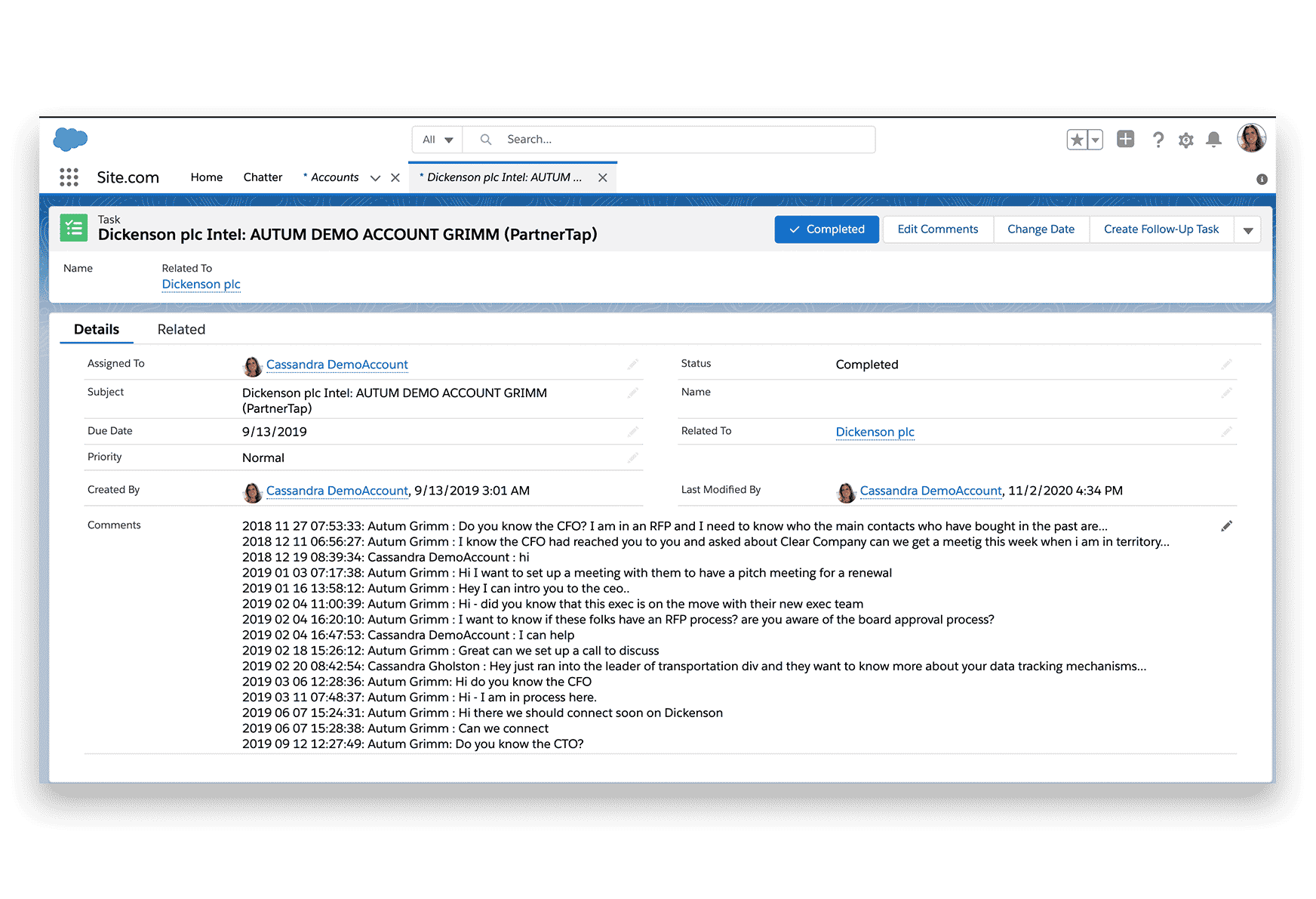 4. All chat conversations saved to both CRMs
Your partner sales reps will share the scoop on accounts over chat much more freely than they do through official work emails. But don't worry – we capture all of the chat conversations and post them automatically into activity records in both partners' CRM system so future account owners can get up to speed quickly.
PartnerTap is a Partner Ecosystem Platform that helps both channel and sales teams share information so you can identify opportunities to grow revenue with each partner. Seamless integration with your CRM helps you get started quickly and keeps data seamlessly updated once you're up and running.
Single sign-on means your channel and sales users can just login to PartnerTap with their existing CRM system username and password
Machine learning algorithms map accounts across partners even when account names are slightly different
Always-up-to-date partner mapping when your partners connect directly with your teams via PartnerTap, even during territory changes
Identify new accounts that aren't yet in your CRM account that you can add and assign to your sales reps
Empower channel managers to scale with powerful Channel Insights
Empower your sales team to co-sell and share insights with partners on shared accounts
Bonus Tip: if you have sales reps on different CRM systems you can use PartnerTap to connect your various sales teams on their shared accounts so you can cross-selling all your products and services more effectively.
"Imagine how many trade shows our GSMs [sales reps] would need to attend in order to build such a large and successful network in that time!"
PartnerTap Makes Companies More Money – Every Day
more partner
sales opportunity
deal sourced and closed
with PartnerTap
real-time
account mapping
We saw an ROI in the first quarter using PartnerTap. We closed two new customers and accelerated the sales cycle on numerous other prospective accounts.

– George Gadebusch, VP Technology & Product Sales, World Travel, Inc.