From the moment he founded Salesforce, Marc Benioff believed that he was creating the future of CRM software. The Legacy CRM companies, like SAP and Oracle, didn't want to switch from the on-premise software model that they had controlled for so long. However, Benioff not only wanted to host his software in the cloud, but he also wanted community service to be the driving force behind his company. This was a major pivot away from the model of the market leaders at the time.
Very few people, other than Benioff's close inner circle at Salesforce.com, believed in what would later be called "cloud-based solutions." No one could imagine what the innovations of Salesforce would bring about, including the evolution of the Salesforce AppExchange which gives visibility to technologies created by women and people of color. Marc's vision of a service-based tech company has revolutionized software, empowered entrepreneurs, helped struggling communities, and grown into a multi-billion dollar enterprise.
CRM Software Without Software
Benioff was always confident that he was creating the future of software. To market that vision he used the slogan "no software" so that consumers could visualize software that didn't require a disk to install the files onto their computers. Today, we all know it as software as a service. While Benioff is not credited with creating software as a service, he is considered one of its earliest adopters and biggest proponents. In a New York Times article from 2004, author Gary Rivlin stated, "Mr. Benioff did not invent this notion of software as a service. It dates back to mainframe computers in the 1960s. But he has become its most forceful advocate, taking any opportunity to declare the era of installed software dead and to taunt larger foes who use that method." The latter statement is not hyperbole. By Salesforce's own account, in the year 2000, the company hired "actors to stage a mock protest outside a Siebel Systems conference. The 'protestors' carried signs with anti-software messages to drive home Salesforce's 'The End of Software' marketing tagline."


So, how could a CEO who only started his company a year earlier be so brash? From the beginning, he was confident he was creating the future of software.
Building the Cloud
It's not clear whether Marc and his early colleagues knew that they were building the foundation for what would be called "Infrastructure as a Service." However, what is clear is that their idea of building CRM software that required no installation began the cloud revolution. An article from Tech Crunch states that, "you have to remember that in 1999, there was no concept of Infrastructure as a Service. It would be years before Amazon launched Amazon Elastic Compute Cloud in 2006, so Harris and his intrepid programming team were on their own when it came to building the software and providing the servers for it to scale and grow." Parker Harris is the co-founder of Salesforce and was the CTO that built Salesforce's cloud infrastructure. From day one, Harris' team was building innovations that would usher in the cloud computing revolution.
For their CRM tool to successfully run on the internet, Salesforce needed to host everything on their own servers. At the time, there was no AWS, Google Cloud, or Microsoft Azure for them to purchase server space from. Harris' team was tasked with building a server farm and the architecture to make it work all by themselves. This was the beginning of Infrastructure as a Service. The goal was to host enterprise, CRM software on the web, so they had to build what we now call cloud infrastructure. Benioff and Harris had to create a network of servers to host all of their customer data if they were going to bring the vision to fruition. That's exactly what they did. According to Tech Crunch, "From the beginning, Benioff had the vision, and Harris was charged with building it."
Billion Dollar Vision
The concept really started for Marc while he was working for Oracle in the mid-90s. He took some time off to go to Hawaii where he learned to practice meditation. According to Inc.com, it's there that he came to believe that "the Web would soon become all about service, particularly software as a service and cloud computing. Benioff decided then and there that any tech company he founded would need to have a culture built around service." Marc is considered a visionary because his idea brought infrastructure as a service to the rest of the world. With his leadership, Salesforce has continued to innovate and shape the software and cloud computing industries.
Fast forward two decades. Salesforce is one of the largest tech companies in the world with 21 billion dollars in revenue and a market cap of 269 billion. The idea of hosting a CRM tool on the internet was a huge success. Benioff never faltered in his vision of what he dubbed "no software" and now he is the CEO of one of the largest companies in the world.
It Isn't Just About the Money
While Salesforce is a multi-billion dollar company, Marc has made sure that service is still a part of Salesforce's foundation. He is a philanthropist as well as a businessman. He created the 1-1-1 model of community service which many Silicon Valley companies have also adopted. The idea is that Salesforce donates 1% of its equity, employee time, and its product to help improve communities. To date, by Salesforce's own calculation, they have "given more than $240 million in grants, 3.5 million hours of community service, and provided product donations for more than 39,000 nonprofits and education institutions." The community service hours are racked up by the employees. On day one, all newly-hired Salesforce employees are shown their office and then leave to go do some kind of volunteer work. It is another innovative way for an enterprise company to give back to its community.
Salesforce's success is proof that large corporations can make philanthropy a part of their business model. They built Cloud Infrastructure as a Service and popularized Software as a Service. They have cornered the tech service market and their profits continue to grow.
Infrastructure as a Service: Salesforce Appexchange
In 2006, Salesforce launched its Appexchange. For the first time, companies and startups could build solutions on top of another company's cloud infrastructure. It would be foolish to say that profit wasn't a motive in the creation of the Appexchange, but it definitely empowered startups and smaller companies to create solutions without having to start from scratch. By 2007, with the launch of Force.com Salesforce had created "a new platform that allows developers to create database-driven applications and deploy them as services" – TechCrunch.
The Appexchange has given many tech entrepreneurs visibility and Salesforce makes a point of championing female-founded apps on the exchange while also highlighting companies founded by people of color. Salesforce is a forward-thinking company in all respects. What started as an idea of a company with a principal for service ended up being a platform that lifts up businesses as well as communities.
Salesforce is Close to Home
It just so happens that PartnerTap is one of those companies lifted up by Salesforce. It's also 1 of only 30 women-founded companies on the app exchange. In 2016, our two female founders headed to Dreamforce. They had just started their company with a vision for helping enterprise companies partner better and drive more revenue with their partners. They, like Marc, had started a company based on a vision, which they knew would change the way businesses partnered.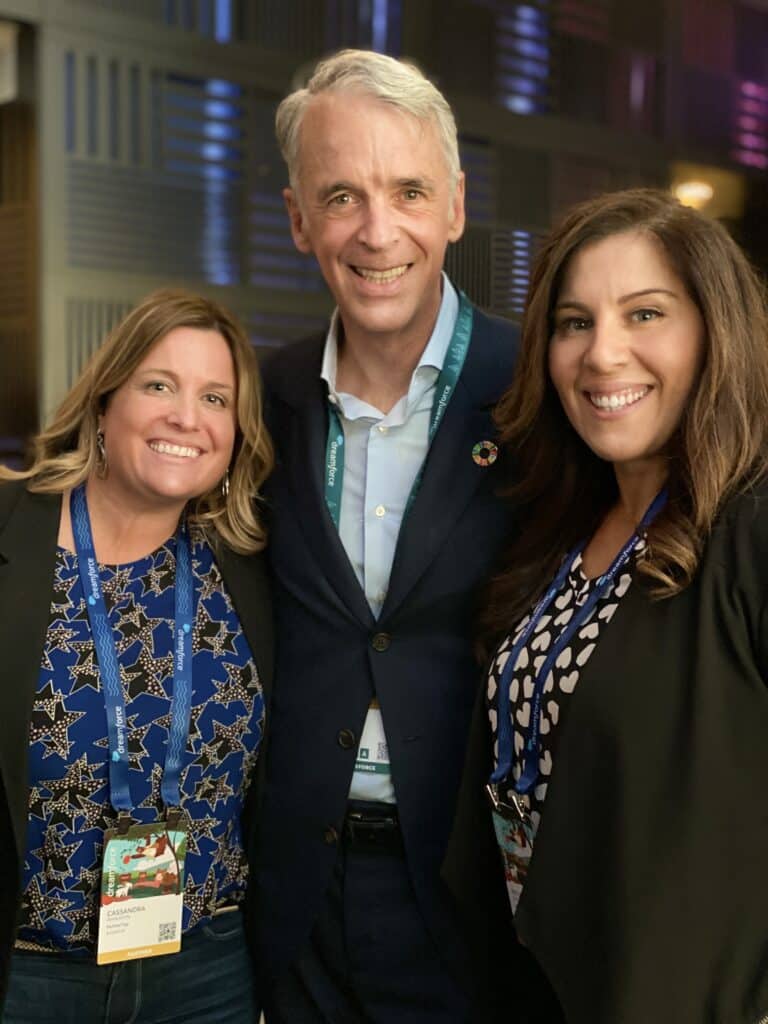 Both of our founders knew the challenges of finding partner-led deals because they had each spent 15 years working in channel sales. They wanted to help salespeople find overlap between their customers and prospects, so they could co-sell easily, win more deals, and make more money with their partners. Five years later, Partnertap has a solution for sales reps as well as channel and alliance managers. It uses CRM data to find overlapping accounts between partners so they can source, drive, and track more revenue with their partners.
It's a new way of analyzing data, and a new way of partnering. The goal of which is to help all enterprise companies drive more revenue with each of their partners. Salesforce has supported the vision the whole way through. At this year's Dreamforce, PartnerTap was recognized as a 'Must-Have App on the Salesforce Appexchange.' Just a few months before that announcement, Salesforce boosted our company by recognizing that we are one of the Latinx-founded companies on their Appexchnage. We have felt supported in our vision by this exemplary enterprise. Salesforce has helped us, as well as many other companies (around 3,400), reach our dreams. The sky's the limit.
Final Thoughts
Marc Benioff's vision was of a software company that was hosted on the internet and would make service to the community a part of its foundation. By seeing his vision through, his company, Salesforce, brought us cloud infrastructure, software as a service, and an Appexchnage that gives diverse tech entrepreneurs a platform to showcase their software solutions. The way we interact, store data, and do business has completely transformed. It was not only a billion-dollar idea, it completely changed our society
Photos: Salesforce https://techcrunch.com/2019/03/08/salesforce-at-20-offers-lessons-for-startup-success/